Victim in Raleigh home invasion, paralyzed from waist down for life, is described as plucky and hopeful
This follow-up
article from WRAL
shows
a photograph of the male victim, known only as Jason, in the home invasion in Raleigh, North Carolina (see VFR's
post
yesterday) in which Jason was shot and paralyzed for life and his wife was sexually assaulted and rape was attempted on her. It emphasizes that Jason is optimistic and remains his usual sarcastic, joking self about his situation and his therapy.
When white victims or the families of white victims of black savages do not found charitable organization aimed at helping blacks (the family of Amy Biehl is the classic example, but there are many more), they respond to their injuries by showing pluck and optimism—or at least are described by the media as doing so. Either way, the message is that black-on-white savagery that leaves the victim dead, maimed, or crippled is not a problem, but just another opportunity to demonstrate the all-American can-do spirit. No harm was really done.
And of course the article also emphasizes that the crime was "random," a nonsensical word in the context of a home invasion that included an attempted murder and rape. But "random" is also intended to convey the inchoate notion that somehow no harm was really done and there's nothing to worry about. Everything in the media coverage of black-on-white violence (which I call "media coverupage"—see definition) is designed to short-circuit the idea that black-on-white violence actually exists and that blacks are particularly violent and dangerous.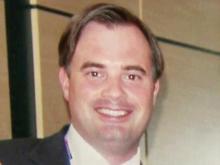 Victim of Raleigh home invasion optimistic after attack

Raleigh, N.C.—A Raleigh man left paralyzed from the waist down after he was shot in the spine during a violent home invasion earlier this month is facing the challenge of recovery head-on, his co-worker said Wednesday.

"He is incredibly positive and joking. He is his same funny, sarcastic self that we all love," said Rhonda Downum, a human resources manager for Cornerstone Therapeutics.

Her co-worker, whom WRAL News is identifying only as Jason, and his wife were attacked in the middle of the night on Jan. 7 after, police say, two men broke into their home in Raleigh's historic Oakwood district.

"It's exceptionally difficult," Downum said. "We do feel like we're family members, and when something like this happened, none of us were prepared and didn't realize how to deal with this. Everyone just wanted to help immediately."

Co-workers have set up a Facebook page to get donations to help Jason, a product development manager, and his wife to help make their home and vehicles handicapped-accessible.

"It's been very difficult knowing the journey they have ahead of them," Downum said. "We want to make sure that they know we're here for them."

They're also collecting cards and notes to encourage him as he recuperates.

Jason recently took to Facebook, thanking his supporters for their help.

"Despite a bum pinkie (hurt in the incident), I'll soon be moving to a manual chair. That should make zooming around the hospital much more fun (and provide some additional exercise)," he wrote on Monday. "It's the small victories that are so meaningful—and your support that continues to move us upward."

"He does not know the word failure. He is so strong, and he truly is our hero," Downum said.

Jason's neighbors feel the same way and are hopeful for when he returns home.

"We were all shocked, and we are praying for (his and his wife's) wellbeing," Sue Tillery said. "We want them to come back and just be comfortable here, because I think this was just a random act. I really do."

Raleigh police, however, haven't said whether the attack was random, but there's no evidence that the victims knew their attackers.

Jahaad Tariem Allah Marshall, 26, and his brother, Shabar Master Marshall, 16, face numerous charges in the case, including attempted murder, first-degree burglary, first-degree kidnapping, attempted murder and first-degree forcible sex offense.
- end of initial entry -
Jeremy G., who sent the article and photograph, writes:
I agree completely with your opening observations. Whites' cheerful response to being maimed by blacks is very distressing. I hadn't really focused on the victim's reported attitude until you pointed it out. What should be our response to liberals who not only don't share our concerns over black-on-white savagery, but don't seem to mind when they are its victim? I can just see you going on a TV show to raise awareness of black-on-white savagery by showcasing what happened to this guy, and the actual white victim calls in to denounce you as a hate filled racist.
Paul K. writes:
In reading this article it struck me that the reporter or editor chose to minimize the extent of the violence as much as possible. At the beginning, it mentions that the wife was "sexually assaulted" and at the end it mentions that one brother is charged with first-degree forcible sex offense and the other with attempted first-degree rape. However, in the body of this article the rape is not mentioned in the flow of events. I think its occurrence is implied in the phrase "at some point," in the sentence, "At some point, she was able to get away."

Wouldn't want to rile up the readership.
KO writes:
Further to Jeremy G.'s observation, is it truer to say that liberals "don't seem to mind" when they are victims of black-on-white savagery, or that the individuals concerned are so profoundly intimidated that they are incapable of taking action under any circumstances?

It puts me in mind of the lesser school scenario where the bullied boy tries to pretend that he is actually friends with the bully and that they are just playing a game.

(I mean to be supportive of such victims, not insulting.)
Lisa F. writes:
The article also states that Jason posted this on Facebook:

"Despite a bum pinkie (hurt in the incident) … "

So the savage sexual assault on his wife and the physical assault on him that paralyzed his lower body and forever changed their lives is reduced to a trivial "incident." He makes it sound like he fell down the stairs.

Until white victims of black crime make it an issue, there will not be anything done to warn people about it, let alone to put an end to it.
David B. writes:
Another scenario much loved by liberals in the media and elsewhere is when a relative of a victim of a black-on-white murder embraces the murderer's parents. Here is an example from Knoxville, Tennessee on January 23.

One Brandon Johnson attempted to rob a bank and killed Davida Nicholson, tried to kill her son and shot at several other customers. For this, his lawyer arranged a plea deal for 45 years in prison with parole possible for "good behavior."

After the sentencing hearing, Davida Nicholson's daughter, Morgan Burgin, hugged Johnson's mother "after seeing her weeping during today's hearing."

Judge Mary Beth Leibowitz then told Burgin, "It's obvious you were well raised."

By the way, the parents of Channon Christian and Christopher Newsom, victims of what VFR calls the Knoxville Atrocity, would have none of this. When attending one of the trials in 2010, I saw a black TV reporter try to get Channon Christian's father Gary to meet with Vanessa Coleman's (the female defendant) parents. He refused. Would Judge Leibowitz say Channon Christian's father was not well raised?
David B. writes:
You write about the news item: "It emphasizes that Jason is optimistic and remains his usual sarcastic, joking self about his situation and his therapy."

Back in 2011, I fell down some stairs and landed on concrete, breaking a bone in my left shoulder. It was painful and I had to sleep on a chair instead of a bed for weeks. I was not cheerful about the situation and the therapy I underwent. Maybe it was due to my own limitations.

It took several months but I recovered.

I'm also reminded of something I read by James Jones, author of "From Here To Eternity" and "The Thin Red Line." Jones wrote that in contrast to press descriptions, WWII American soldiers in a military hospital were "remarkably uncheerful about their wounds."

In 2013, we read that a white victim of black violence is "plucky and optimistic" after being paralyzed from the waist down.
Posted by Lawrence Auster at January 27, 2013 10:37 AM | Send