In home invasion, husband is shot and paralyzed, and his wife is sexually assaulted
(See follow-up
story
in which the paralyzed victim is described as optimistic and joking.)
How would you like to wake up in the middle of the night and see these two sons of Obama (meaning that like Trayvon Martin, they look like the sons Obama might have had if he had sons) prowling in your bedroom?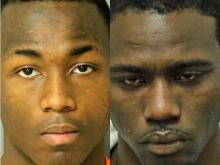 Jahaad Tariem Allah Marshall and Shabar Master Marshall
And how would you like to be in that circumstance, and not have a gun, because you are obeying the law which liberal America wants to impose on the whole country, and the sons of Obama
do
have a gun, because they are
not
obeying it?
WRAL reports:
Raleigh, N.C.—Two brothers face multiple charges, including first-degree burglary and attempted murder, in connection with an early-morning violent home invasion in Raleigh's Oakwood neighborhood in which a man was shot and his wife sexually assaulted.

Police found the man in his home in the 500 block of East Lane Street around 3:15 a.m. after receiving a 911 call from his wife who was able to escape to a neighbor's house for help.

"We woke up, and there were these men in our bedroom, and they wanted money. We gave them everything we had, and we didn't have enough," the wife said in the frantic call, released Monday evening.

She said the men were masked and were wearing black. At some point, she was able to get away.

"I ran out of the house screaming, and then I heard them shoot him," she said.

"We heard a blood-curdling scream and then pounding on our front door," neighbor Terry Iverson told WRAL News Monday. "She said someone had broken in and there were a couple of guys, and her husband had been shot."

Both victims were taken to WakeMed, where the wife was treated and later released. The extent of her husband's injuries and whether he was still at the hospital Monday evening were unclear. He is expected to survive.

Other neighbors reported hearing commotion outside their window and seeing someone leaving jumping from a window and running down a pathway behind the house.

Another neighbor reported an attempted break-in at his home, neighbors said, and was able to write down part of a license plate number.

A short time later, police arrested Jahaad Tariem Allah Marshall, 26, and Shabar Master Marshall, 16, after a high-speed chase when they crashed their car at the intersection of Wilmington and Rush streets.

Shabar Marshall was charged with one count of first-degree burglary, two counts of first-degree kidnapping, one count of attempted murder and one count of first-degree forcible sex offense.

His brother was charged with one count of first-degree burglary, two counts of first-degree kidnapping, one count of attempted murder, one count of attempted first-degree rape and one count of possession of a firearm by a convicted felon.

Police are still investigating the case and ask that anyone with information that might help detectives to contact Raleigh Crime Stoppers at 919-834-4357 or go to the Crime Stoppers website.
- end of initial entry -

David B. writes:
According to this story, the man shot in the Raleigh home invasion was left paralyzed from the waist down.

If no one dies, the perps probably won't serve that much time in prison. Especially if they are juveniles.
Posted by Lawrence Auster at January 26, 2013 06:21 PM | Send