Some news
Dear Reader
:
Since last June, when I first announced it, I've posted updates on my health situation about once every six months. The last update was just three weeks ago, when the news was still good and I was clear of visible disease. I'm sorry to have to tell you this, but since then there is bad news. There has been a return of nodules and growths. My doctor told me about it on May 24, a week and a half ago. The tiredness that I wrote about on May 15 was probably a symptom of it. We have decided on a second-line treatment (treatment after the first-line treatment has failed). It is another clinical study, and it will start this week.
So the "charmed" part of my life with pancreatic cancer is now over. It lasted from July 29, 2010 (the day of my first treatment, when I instantly began to get better) to May 2012. I am no longer the miracle man—though who knows, maybe I'll become the miracle man again.
The night of the day I got the report I opened up the Book of Common Prayer, not looking for anything in particular, and it opened to a page that had a Gospel section, John 16:23-33. The passage opened up the meaning of prayer to me in a new way, along with other things that were very helpful for me in my situation. I may write about it later.
Last week (one week after he gave me the bad news) I asked my doctor what he thought of this statement: that if the treatment goes well and I'm lucky, I might live another two years. He said that was reasonable. My doctor is a cautious and conservative man. He told me that if it was not reasonable, he would have said so.
At the same visit last Thursday, when the doctor, repeating something we all knew very well, said, "Unfortunately, we don't have a cure for pancreatic cancer," I snapped my fingers and said, "Damn!" I guess if you can joke about your death you're not in such bad shape.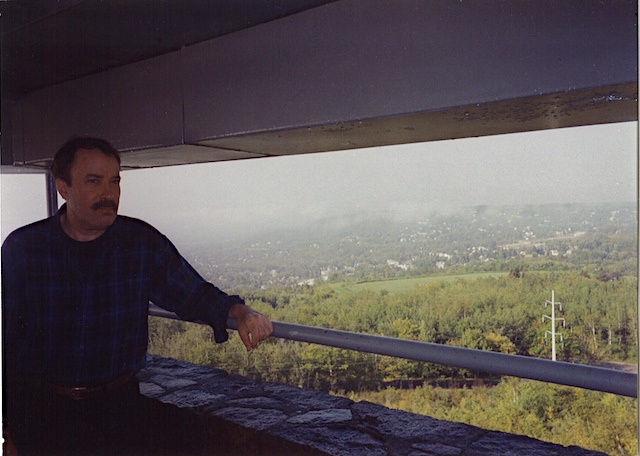 LA (in Duluth, Minnesota), September 2004
Comments
Roger G. writes:
You'll have to do it again. We don't have a replacement for you.
LA to Roger G.:
As with previous notices about my health, I wasn't planning to post readers' e-mails responding to it. I'm replying to them privately. But I'm making an exception for yours. I liked the way you just commanded or exhorted me that I have to do it again.
LA writes (June 6):
A note on synchronicity. Here is the way I came to post the above photograph in this entry.

Last Friday or Saturday, I decided that on Monday I would post an announcement about the bad turn in my health. On Sunday evening, I was going through some old stuff piled on my desk and came upon an envelope. It was an envelope from Paul Nachman containing photographs of our canoe trip in the Boundary Waters area of Minnesota in September 2004. Now normally I keep all my old photographs in a big cardboard box in my closet. I had no memory of seeing this envelope on my desk before—and believe me, I do clean my desk more frequently than once every eight years. Perhaps I had recently come across the envelope elsewhere in my apartment and had put it on the desk, but I had no memory of that. Anyway, I began looking through the photographs, and saw the one of myself that you see above. After we had finished the canoe trip we had driven to Duluth and the next day we toured the city before flying from there to the Minneapolis airport, whence Paul returned to California and I to New York.

Anyway, I liked the photo and thought it would go well with the entry about myself that I was planning to post the next morning. With me standing inside that shadowy tower and gazing at the large outside area beyond it, I felt it was symbolic of me being in life while looking out toward what is beyond life.

So, on the evening before posting an announcement about the return of what the doctors consider an incurable disease, by pure chance (hah) I came upon this photo which I had not seen in many years and which I felt perfectly fit the announcement, and so I posted it with the announcement.

Evidently Paul also felt that there was something inscrutable or cryptic about the photo. After I had selected it and took it to a computer place in my neighborhood to get it scanned, I noticed that Paul had put identifying labels on the back of each of the photos. On the back of this photo he had affixed a label that said: "Mysterious stranger at Enger Park golf course."
June 5
Dave T. writes:
The bright side is that you'll probably be leaving this madhouse sooner rather than later. For anyone who loves truth, hates lies, and understands just how deeply our world is run on lies—as you do—this world can seem almost unbearable at times. On the other hand, anyone who loves truth and hates lies is a child of light and can expect greater things on the other side.
LA replies:
Very Socratic. That's what Socrates says in the Phaedo, before he takes the poison.

However, Jesus, I think, has a less negative view of this life. The kingdom of God, which is a different order of existence, is the goal, but the kingdom of God can be entered and lived in while we are in this world. "The time is fulfilled, and the kingdom of God is at hand." "In the world you will have tribulation, but be of good cheer: I have overcome the world." I would say that the Christian way to which Jesus calls us is to live in both realms at the same time, being in this world but mastering it from the point of view of the kingdom of God.
Posted by Lawrence Auster at June 04, 2012 03:38 PM | Send