The Great White Defendant makes brief court appearance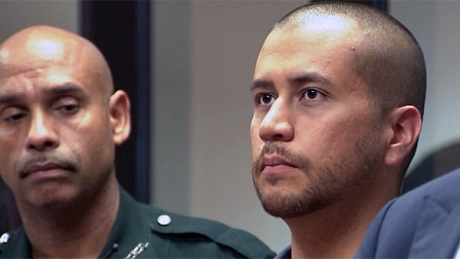 George Zimmerman in court today
When Tom
Wolfe in
The Bonfire of the Vanities
25 years ago coined the term "The Great White Defendant" to describe his blond, rich, handsome stock-broker protagonist Sherman McCoy, could he have imagined that George Zimmerman would one day be the Great White Defendant—indeed, the Greatest White Defendant ever? But such is the power of the Liberal Script. The liberal regime, in order to function and maintain its power, requires an endless supply of white villains, and if a particular villain isn't white, the liberals will make him white, like O'Brien in
Nineteen Eighty-Four
making two plus two equals five.
- end of initial entry -
A reader in Atlanta writes:
I think it starting to dawn on some of the lefties that this guy is not a very good Great White Defendant. I listened to some of the left-wing radio shows today and they are starting to shift their focus from "Zimmerman is a racist animal/criminal who must be utterly destroyed," to "the Florida law and those like it are really to blame."

I feel sorry for Zimmerman and I pray for him and his family, but if there is a trial in this case it is going to expose the people that are pushing this for what they really are. That won't do Zimmerman any good. No power on earth can save him now. But maybe it will do some other Great White Defendant some good down the road.
Posted by Lawrence Auster at April 12, 2012 04:33 PM | Send