Is it possible to be both a contemporary woman, and a plausible (i.e., non-risible) head of government?
Here, from
the
Daily Mail
, is British prime minister David Cameron
meeting
with the new Danish prime minister
Helle Thorning-Schmidt
before the start of the recent summit in Brussels on saving the euro: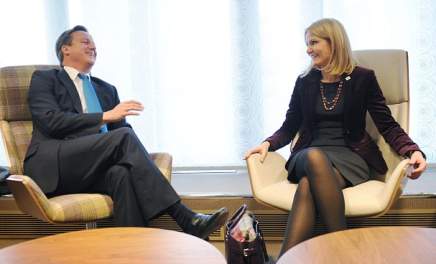 She's the prime minister of a European country, and she's got her skirt more than half way up her thighs. How do you maintain your authority and dignity as a national leader when so much of your body is exposed?
Thorning-Schmidt herself seems uncomfortably aware of the problem, as we can see from this second photo: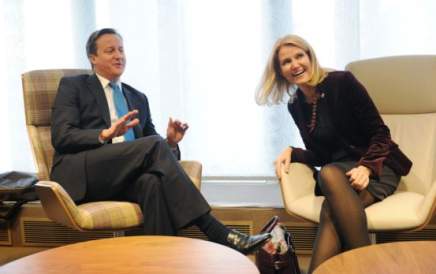 As she leans forward laughing, her skirt comes up even higher on her thigh, so she grabs the hem and pulls it down. She's a head of government meeting with other heads of government in an extremely important meeting on which the survival of their stupid euro is riding, but she's got to keep thinking about how high her skirt is riding. How can she be focused seriously on the grave problems at hand when half her mind is focused on the question, "How much of my thigh is showing?"
- end of initial entry -

James P. writes:
What I found most interesting about the Daily Mail story was this picture. The Social Democrats constituency, it seems, consists largely of women and short, ineffectual-looking males. How many Africans and Chinese live in Denmark; should a picture of a crowd of Danes really have one of each?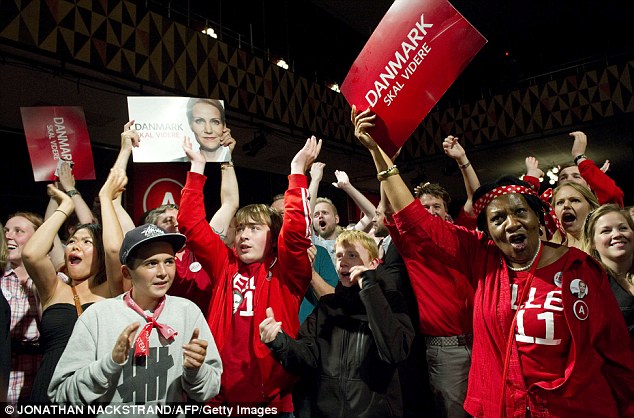 LA replies:
Well, this appears to be a youth group, which would explain the preponderance of short, ineffectual-looking males.
Posted by Lawrence Auster at October 28, 2011 10:38 AM | Send