People … people who need … jewelry …
The photo
and caption come from
Sky News
: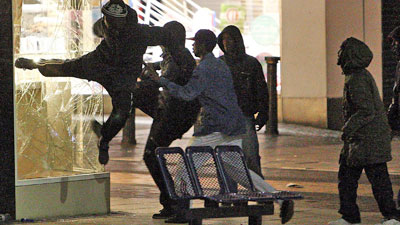 People kick in the door of a jewellers' in Birmingham
- end of initial entry -

Larry G. writes:
Like Barack Obama, Sky News is unable to tell the difference between a door and a window. They are clearly shattering a display window, not kicking in a door.
LA replies:
Yes, I noticed that, too, but didn't mention it as it would have gotten in the way of the main point of the entry.

By the way, the caption of the photo at Sky News still hasn't been fixed at 11:35 a.m. Eastern time, the story was posted at 1:26 British time which I think was two hours ago (assuming that the British don't have daylight savings time).
Posted by Lawrence Auster at August 09, 2011 09:23 AM | Send