29 year old blind man stabbed to death by black intruder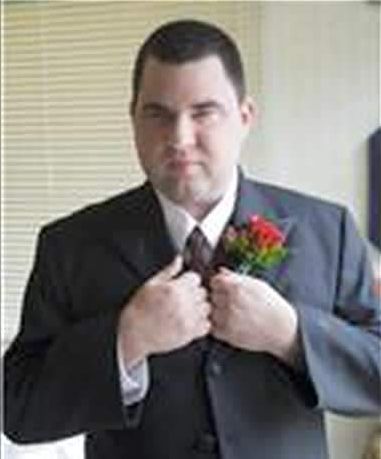 Patrick Ward
When I
looked at the picture of Patrick Ward, and saw in his face and his blind eyes the struggles and difficulties and courage of his life, and thought of him being attacked and stabbed to death in his apartment by some savage thug, it was very sad, it bothered me a lot.
The suspect, spotted at the murder scene and arrested shortly afterward, is shown in the video that is included in the below article from abc2news.com. Of course he is not described as black. We only know he is black from his silent image. Without the video there would be no way of knowing his race.
The below text is the news station's transcript of the TV report:
Blind man stabbed to death, teen charged
Police dog, neighbors lead to arrest

BEL AIR, Md.—Patrick Ward had a lifetime of medical problems which eventually caused him to go blind.

His mom often feared she would have to bury her second oldest child after years of complications from devastating allergies.

"He had it from the day he was born. He had been treated for it with steroids his whole life. It led to problems with his corneas when he was a young child. By the time he was 12, he had cataracts," says Patrick's mother, Kathleen Ward.

Five years ago, Patrick Ward went completely blind, unable to sense any light.

But that didn't stop Ward from moving into his Bel Air apartment on Redfield Road.

The 29-year-old used a cane and went to the Department of Vocational Rehabilitation to learn how to take care of himself.

Unfortunately, that lesson didn't stop his killer.

Neighbors heard some screaming coming from Patrick's apartment Friday night. They tried to get in through the front door but weren't able to.

They climbed through a balcony window and found Patrick lying floor stabbed several times, along with another man leaving the apartment.

Harford County sheriff's deputies caught up with 17-year-old Donnell Graham just one street over.

He lives in the same apartment community as Ward.

Investigators believe Graham stabbed Patrick several times in the upper torso

"Detectives have been able to determine that Graham was attempting to burglarize the home when he was confronted by the victim and stabbed him multiple times in the torso," says Monica Worrell with the Harford County Sheriff's Department.

Patrick stayed in his parents' Pylesville home recently, fearing some of his neighbors.

But his mom said the suspect was never mentioned and investigators aren't saying if his disability made him a target.

Patrick ward was close to earning his a degree from Harford Community College, and he was going to serve as a groomsman in his younger sister's wedding.

Now, his family hopes to find the suit he was going to wear.

"My youngest daughter is getting married in two weeks, and Patrick was in the wedding. I hope to bury him in the suit that he bought for the wedding," says Kathleen Ward.

Donnell Graham has been charged as an adult with first and second degree murder, first and second degree assault and possession of a dangerous weapon. He remains in custody with a bond review scheduled for Monday.
Posted by Lawrence Auster at August 08, 2011 10:18 AM | Send