Head of IMF, staying in $3,000 New York hotel suite, sexually attacks hotel maid
Here, from
this morning's
New York Times
, is the police's
account
of the sexual assault (and more, see
below
) committed by Dominique Strauss-Kahn, managing director of the International Monetary Fund and leading French Socialist politician, on a hotel maid in New York City yesterday:
… [Deputy Commissioner Paul J. Browne of the NYPD] said that it was about 1 p.m. on Saturday when the maid, a 32-year-old woman, entered Mr. Strauss-Kahn's suite—Room 2806—believing it was unoccupied. Mr. Browne said that the suite, which cost $3,000 a night, had a foyer, a conference room, a living room and a bedroom, and that Mr. Strauss-Khan had checked in on Friday. [LA replies: $3,000 a night! Does the IMF, which is supported by U.S. taxpayers, pay for this?]

As she was in the foyer, "he came out of the bathroom, fully naked, and attempted to sexually assault her," Mr. Browne said, adding, "He grabs her, according to her account, and pulls her into the bedroom and onto the bed." He locked the door to the suite, Mr. Browne said. [LA replies: He walks out of the bathroom, sees the woman, and bam, starts to attack her?]

"She fights him off, and he then drags her down the hallway to the bathroom, where he sexually assaults her a second time," Mr. Browne added.

At some point during the assault, the woman broke free, Mr. Browne said, and "she fled, reported it to other hotel personnel, who called 911." He added, "When the police arrived, he was not there." Mr. Browne said Mr. Strauss-Kahn appeared to have left in a hurry. In the room, investigators found his cellphone, which he had left behind, and one law enforcement official said that the investigation uncovered forensic evidence that would contain DNA.

Mr. Browne added, "We learned that he was on an Air France plane," and the plane was held at the gate, where Mr. Strauss-Kahn was taken into custody. Later Saturday night, Mr. Browne said Mr. Strauss-Kahn was in a police holding cell.
The
New York Post
, in the first sentence of its
story
, mentions an element of the charges against Strauss-Kahn that was entirely omitted by the
Times
: sodomy. We can readily understand why the
Times
was silent on that angle. It doesn't want to put sodomy, its favorite sexual activity, in a bad light. The
Post
reports:
The French political bigshot who heads the International Monetary Fund was arrested for allegedly sodomizing a Manhattan hotel maid yesterday—hauled off an Air France flight just moments before takeoff from Kennedy Airport, police sources said….

Strauss-Kahn is awaiting arraignment on charges of a criminal sex act, attempted rape and unlawful imprisonment, NYPD spokesman Paul Browne said.

The trouble began at around 1 p.m. yesterday when a 32-year-old housekeeper entered Strauss-Kahn's $3,000-a-night suite at the luxury Sofitel on West 44th Street—apparently unaware he was still inside.

The married Strauss-Kahn was in the bathroom, and emerged naked, chased her down a hallway and pulled her into a bedroom, where "he jumps her," a source said.

"She pulled away from him and he dragged her down a hallway into the bathroom where he engaged in a criminal sexual act [presumably that's the forcible sodomy, which is presumably oral sodomy] according to her account to detectives," Browne said. "He tried to lock her into the hotel room."

Soon afterward, Strauss-Kahn got dressed and headed off to JFK for a flight to Paris.

When he was approached on the plane by Port Authority cops, he said, "What is this about?" sources said. He was taken off the aircraft without handcuffs.

Two law-enforcement sources said Strauss-Kahn was trying to flee authorities. Police said he left his cellphone and other personal items in the room.

"It looked like he got out of there in a hurry," Browne said.

Strauss-Kahn, who had a meeting planned for today with German Chancellor Angela Merkel in Berlin, has an arrangement with Air France that allows him to get on any flight and sit in first class, the sources said. He was traveling alone.
I know I shouldn't joke about such a serious matter, but maybe Strauss-Kahn was seeking sexual release prior to his meeting with Chancellor Merkel so that he wouldn't be distracted by Merkel's extraordinary charms and could concentrate on the business at hand.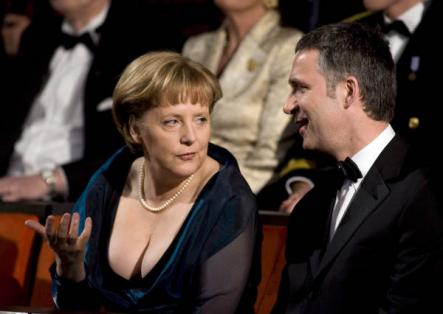 Merkel with Norwegian Prime Minister
Jens Stoltenberg in 2008
Sorry to throw that at you like that. (See VFR's original reactions to the photo
here
.)
Back to the sexual assault story, Tiberge at Galliawatch writes:
What [Strauss-Kahn] did exactly is not certain. The Post article uses the term sodomy, but other sources say he forced her to perform oral sex, and still others say she got away before he could do anything. In view of this, I advise some caution in judging his actions. But whatever it was, he is still guilty of sexual molestation of some sort, and this is NOT the first time he has committed such crimes. Marine Le Pen has said she is not surprised, and adds that he is definitively disqualified as a candidate.
Also, as can be seen by the
discussion
at
Lucianne.com
, the L-dotters are thrown by the charge of sodomy against Strauss-Kahn. They think that sodomy and oral sex are different things. They don't seem to be aware that New York State's and all other states' penal codes define sodomy as oral or anal sexual contact. Or as commenter # 56 graphically puts it, "Entering any orifice other than the one nature designed for sex is legally called sodomy." (As a side point, news articles about sex crimes are repeatedly unclear in this area, because they refer to a charge of "sodomy" without specifying whether it's oral or anal sodomy.)
Now the New York Post says that Strauss-Kahn was charged with a "criminal sexual act." This seems to be a replacement term for non-consensual sodomy. Here is the relevant section of the New York State Penal Code:
130.50 Criminal sexual act in the first degree.

A person is guilty of criminal sexual act in the first degree when he or she engages in oral sexual conduct or anal sexual conduct with another person:

1. By forcible compulsion; or
2. Who is incapable of consent by reason of being physically helpless; or
3. Who is less than eleven years old; or
4. Who is less than thirteen years old and the actor is eighteen years old or more.

Criminal sexual act in the first degree is a class B felony.
- end of initial entry -
Jim C. writes:
Here's my prediction:

Accuser is either Hispanic or black. The said "victim" voluntarily gave oral sex to IMF guy (for a fee, whatever). After the sex act, "victim" grows a conscience (for whatever reason). "Victim" calls the police.
Timothy A. writes:
In looking through the comments following the Times article last night, my impression was that leftists were either suspicious that this was a set up by Sarkozy (DSK is apparently the presumptive Socialist candidate for President of France) or disillusioned that such a smart fellow would do something so stupid (not evil, mind you, but stupid). There was also some question (hope?) of whether DSK was covered by diplomatic immunity. The authoritative answer seems to be that diplomatic immunity applies only to activities carried out as part of his duties as head of the IMF. So, if sexually assaulting hotel staff is part of his job description, he should be safe from prosecution.
Steve R. writes:
I emailed my leftist Rabbi:

Jewish head of the Socialist party,
leader of the world's notorious financial body,
in a $3,000 hotel room,
staying free of charge,
attacking and sodomizing a lowly paid oppressed female of the proletariat,
he flees to escape judgement,
taking a first class seat,
also supplied to him free of charge.

So, how many stereotypes about Jews did this act reinforce? Is he vying with Bernie Madoff to give the worst name possible to liberal/leftist Jews? What is there to be thankful for here? That it wasn't a homosexual attack?

Probably best to just play the French card. Eh?
LA replies:
Some corrections:

First, DSK is not the head of the Socialist party. He's a Socialist politician hoping to be the Socialist candidate for President.

Second, the story did not say that DSK gets his seat from Air France free of charge, only that he can get a seat any time he wants one. Though of course he's not paying for the seat himself, any more than he pays for his $3,000 hotel room himself.

Finally, since when are violent sex attacks a stereotypical Jewish behavior?
May 16
Paul T. writes:
You wrote: "Finally, since when are violent sex attacks a stereotypical Jewish behavior?"

They're not, but as I'm sure you're aware, it was a staple of Nazi propaganda that Jewish men preyed sexually on non-Jewish women (a notion revived very graphically—with however much postmodern irony you care to read into it—in Robert Crumb's comic book story, "When the Goddamn Jews Take Over America"). Anyway, I think that's the stereotype or charge being referred to.

Incidentally, that photo of Merkel is enough to put a lad off sex altogether…!
LA replies:
I hadn't remembered that about Nazi propaganda.
Posted by Lawrence Auster at May 15, 2011 08:52 AM | Send