Fatal face
On Tuesday
morning, I
posted
several photos I had found of Sahel Kazemi, the 20 year old mistress and apparent murderer of Superbowl quarterback Steve McNair. I pointed out how from her facial expression, posture, and even the tilt of her head, she looked like a dangerous individual. That point is brought out even more by a
photo
of Sahel in Tuesday's
New York Post
, under the headline "FEMME FATALE BOUGHT PISTOL THAT KILLED NFLER":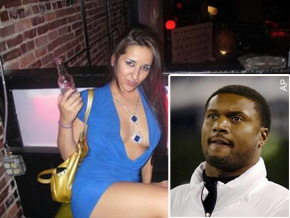 In addition to the way she's dressed, look at the bend of her head, the twisted, malign expression of her face and particularly around her lips (unfortunately this version of the photo is less clear than the print version).
VFR features so many stories about naive, sexually irresponsible young white women who get themselves killed by nonwhite/immigrant men whom a modicum of common sense would have told them to avoid, that I have to point out the "man bites dog" aspect of this story: a naive, sexually irresponsible black man getting himself killed by a young Caucasian immigrant woman whom a modicum of common sense would have told him to avoid.
The one constant is that the killer is an immigrant, the victim a native. (Note: When I say this, I am not intending to make immigration a central aspect of the story; see exchange with Mark Jaws below.)
INSIDE A DEADLY ROMANCE
FEMME FATALE BOUGHT PISTOL THAT KILLED NFLER
By DAN MANGAN, Post Wire Services

HOT TO TROT: Sahel "Jenny" Kazemi, 20, had been preparing to wed already-married ex-quarterback Steve McNair, 36, (inset) who had lavished her with vacations and an SUV, her relatives say.

July 7, 2009

Married ex-NFL superstar Steve McNair swept a Nashville restaurant worker off her feet as he took her to vacation hot spots, gave her a pricey Cadillac SUV for her birthday, met her family and claimed he was leaving his wife.

Sahel "Jenny" Kazemi, 20—who cops yesterday revealed bought the gun that killed McNair—was so smitten with the athlete that she wanted to marry him and was preparing to sell her furniture so she could move in with the former Tennessee Titan, her relatives said.

"She just had it made, you know—this guy taking care of everything," said her nephew, Farzin Abdi. "They were together all the time, unless he was taking his kids on vacation."

But McNair—who began dating Kazemi six months ago and took her to Las Vegas, Hawaii, Key West and California—apparently had not filed for divorce from his wife, Mechelle, authorities said yesterday. TMZ.com reported they were selling their house for nearly $3 million so they could move to another home "near a lake."

On Saturday afternoon, a friend found the ex-quarterback dead in a Nashville condo he was renting, with two gunshots each to his head and chest. Near the father of four lay Kazemi, who was dead from a single gunshot fired with the weapon touching her head, The Tennessean newspaper said. The semiautomatic pistol was found under her body.

"We now know that the gun was purchased by Kazemi on Thursday night from a private individual," said police spokesman Don Aaron.

Less than 24 hours earlier, the sultry Iranian immigrant had been busted for driving while intoxicated behind the wheel of the Cadillac Escalade that McNair had bought her for her birthday in May.

McNair, 36, who led the Titans to a 2000 Super Bowl appearance, was in the SUV with Kazemi and explained she was high from "a hookah situation," Aaron said.

Despite strong suspicions that Kazemi killed McNair before turning the gun on herself early Saturday, Abdi, her nephew, told The Tennessean, "I can't believe it, because she was such a sweet girl."

Abdi said he and his family first met McNair the weekend of Kazemi's 20th birthday.

Were we happy about the relationship? No," Abdi said. "I don't know if he had filed for divorce, but I thought it wouldn't happen," he said. "I was under the impression that his family knew about her."

Titans coach Jeff Fisher yesterday said he hoped "that Steve will be remembered—and also forgiven—but remembered for what he did and what he meant to this organization."

dan.mangan@nypost.com

[end of Post article]
- end of initial entry -
Terry Morris writes:
Yes, you're right about her posture in the photograph indicating that she was totally self-absorbed and a dangerous individual, but just a common allotment of common sense would suggest that such people are very potentially all of the above.

I've used the example many times before, but to me these people (in this case Iranian immigrants) are analogous to someone who has spent his entire adult life in prison and is released after thirty years of incarceration. That he acts like a no-account prisoner outside of the confines of the penitentiary should be no surprise to us; he's simply doing what he learned to do while in prison to survive. And it looks like in this girl's case that, like many violent criminals who escape prison are prone to say, she wasn't going to be taken back alive.
Stephen T. writes:
I used to hike with a guy who, for fun, would blithely scoop up the benign gray snakes that lay sunning themselves on the trails in the Hollywood Hills. He did it countless times and got real casual about it. One day years later, he obliviously bent down and grabbed the tail of a small, slate gray … Pacific rattlesnake. No, he didn't die, but he did go to the emergency room. See, he just finally messed around with the WRONG species! Nature can be harsh about those things.

You've heard of "Gay-dar" the radar-like ability some people have to pick a homosexual out of a crowd of heteros? When I was in college, I prided myself on my finely-tuned "Crazy Woman-dar" and believed I could spot one a mile away (Still do.) Particularly if I can get just one good, long, look into her eyes. Saved a few roommates from bad outcomes. My detector is pinging like crazy over that picture of Sahel you posted.
Mark Jaws writes:
McNair was just a low-IQ football player weeded out by a dangerous predator. He was simply too dense, too hung up on the sexual aspects of the "relationship" to realize the threat. I don't think this has anything to do with US native-borns or immigrants.
LA replies:
In response to Mark Jaws, it was not my intention to make the immigration aspect of this story central or even predominant, but it fits too well into the analogy I made for me to have left it out entirely. Further, when you add immigrant status on top of the normal human complement of evil and selfishness, there is a marked tendency among many immigrants, who have no roots in or automatic loyalty to the host society, to treat the host society as an open field in which to act out their selfish or criminal desires.
Jack writes:
Right on the heels of the murder of black athlete Steve McNair by a "Caucasian" femme fatale, which you described as a "man bites dog story," we get the news of one Mohammed H. Ali getting a new trial ordered by the awful Ninth U.S. Circuit Court of Appeals in the murder of football's Hall of Fame wide receiver Fred Biletnikoff's daughter Tracey.

It's like the natural (dis)order of the World has been reestablished after a five day summer hiatus.
LA replies:
That's a great point by Jack. We have more on the case here .
LA writes:
A reader has questioned whether it's correct to apeak of Sahed Kazemi as "Caucasian." Certainly Iranians are members of the Caucasian or Caucasoid race, which includes—along with Europeans—Armenians, Arabs, Iranians, and Indians. Jews are a special case, being a mixed group containing elements of various Caucasian groups including the European.

At the same time, while Iranians, Arabs, and Indians are Caucasians or Caucasoids, they are not "white," a term that generally designates the European branch of the Caucasian race.
Stephen T. writes:
A reader comments: "I wish I could see what "immigrant" has to do with a crime of passion, but I just don't."

To me the immigrant factor plays not so much into the fact that she murdered her illicit lover whom she suspected was now doing to her what he'd done to his wife—a plot right out of Agatha Christie, after all—but the fact that, after killing him, she then killed HERSELF.

The number of African American women who would kill themselves after offing some "no-good" like that is so statistically small that it doesn't even show up on the record, I'm sure. And almost as few white women do so, either. Her suicide seems in keeping with the death-fascination that seems congenital in middle-eastern DNA. Plus, she was probably impelled by that dark sense of cosmic fatalism Persians carry around. (Many Persian women have an overwrought, drama-queen aspect, too.)

All things considered, it's surprising that, instead of shooting him American-style, Sahel didn't poison him with some exotic extract from Arabia concealed in a vial in a velvet purse … then gulp a fatal dose herself.
Posted by Lawrence Auster at July 08, 2009 01:09 AM | Send