The Million Normal Human March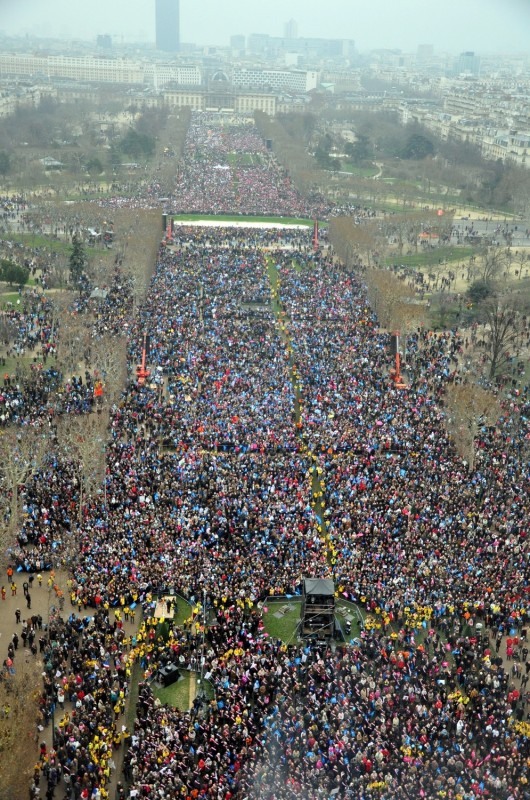 Yesterday there was a huge march, estimated at over a million participants, opposing the Socialist government's plan to legalize homosexual marriage. Check out The Thinking Housewife and Galliawatch. As Laura Wood puts it, "the principle of equality that governs so much of political discourse and everyday life has received a serious blow."
A letter to Le Figaro says:
Without doubt more than a million. Between one and one and a half million. Most of the major Parisian arteries around Porte d'Italie, avenue des Gobelins, boulevard de Port-Royal, boulevard Montparnasse, boulevard des Invalides, avenue de Tourville, avenue de la Motte-Piquet, place Denfert-Rochereau, boulevard Pasteur, avenue de Suffren, Porte Maillot, Porte Dauphine, boulevard de l'amiral Bruix, boulevard Lannes, avenue Henri Martin, avenue Georges Mandel were blocked from noon on, and they were invaded by demonstrators and packed with people in continuous movement from 1:00 p.m to 7:30 p.m. Unprecedented! Then the Champ-de-Mars was filled with a human tidal wave! Police figures are two to three times under-estimated. Orders from above?
In the same entry Tiberge posts a video of 3 1/2 hours of the march condensed into four minutes.
A French writer says that the unexpectedly, unprecedentedly huge demonstration
brought out into the streets of France those who are silent, the France that does not make noise, the well-brought-up France that tries not to be a nuisance, the France that toils and pays its taxes without complaint, that has never committed a crime greater than a parking meter violation, that yields its seat in a bus, and that helps old ladies lift their bags in the train.

The France that is not talked about on the evening news, because its children are not drug dealers, or squatters; they don't burn cars or punch their teachers in the face; the France that no government has to appease because it is so docile, and respectful of the laws and the established order.
In short, the Great Silent Majority has suddenly shown—which it has never done before—that it opposes the ongoing destruction of Western society in the name of equality, and it has done so in the most decisive manner. What if the Great Silent Majority, in all the Western countries, expressed itself similarly on mass immigration, on Islamization, on mandated diversity, on sexual libertarianism, on feminism, on the unearned elevation of blacks and the unearned demonization of whites, on massive transfers of wealth to aliens, illegal aliens, and professional dependents, on the Soviet-like media, on the transgressive and nihilist mass culture? The suicide of the West could be reversed.
- end of initial entry -

January 15
Allan Wall writes:
Inspiring commentary on what transpired in Paris. And Americans call the French "surrender monkeys"! Seems as if today it's we Americans who are surrender monkeys.
Daniel F. writes:
Two thoughts on the large demonstration in France against same-sex "marriage":

1. It would be interesting to know how many of the protestors are Muslim. I read at the First Things site that an imam in Northern France organized a contingent of several busloads of protestors.

2. It is hard to imagine a protest of similar size on this issue in the United States. While the Christian Right can still pull together huge anti-abortion demonstrations on the anniversary of Roe v. Wade, the pro-life movement can plausibly associate itself with compassion and belief in human equality and thus fits in with the politically correct, smiley-face version of Christianity that predominates in both the Catholic Church and evangelical megachurches. It is more difficult to fit opposition to same-sex marriage into this template. Compassion is not the primary motive for opposing gay marriage, and, in taking that stand, one necessarily takes the position that all human desires and behaviors are not equal. To the extent the demonstration in France was undertaken by indigenous Frenchmen (as opposed to Muslims), it suggests that French Catholicism is in better shape than American Christianity.
Posted by Lawrence Auster at January 14, 2013 09:43 PM | Send