Sexy government!
Kidist Paulos
Asrat, with her artist's eye, has
further insights
into the couture of the French cabinet babes, which was
discussed
by me yesterday. She has also assembled the
Daily Mail's
photos into this convenient montage: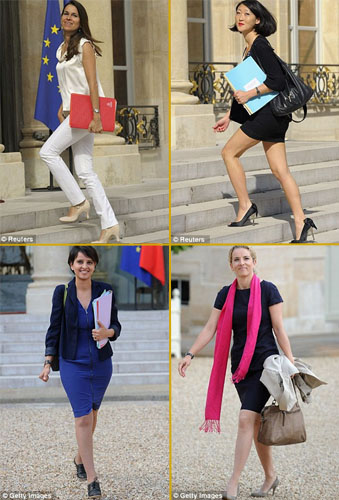 What is all this about? Girls want to have fun. Put girls in charge of government, and government will be about fun.
Which will be the West's final stage before the Muslims, who do understand power, and understand it very well, take us over.


- end of initial entry -

Matthew H. writes:
Not with a bang, but a giggle.
Howard Sutherland writes:
I saw the photographs of newly installed French President Hollande's ministres-coquettes flouncing into the Elysee to have fun!, conducting the state business of the French Republic (and in the case of the Oriental babe, showing a lot of leg). These unconstrained-by-convention gals no doubt consider themselves political friends and allies of the ever-growing and ever-hostile Moslem population that is spreading throughout France. I wonder what they expect the future to hold for them, or if they even think about it. Seeing these liberated ladies so confidently setting about running France in a leftist-chic, even fun way, I remembered the description of Islam attributed to Ayatollah Ruhollah Khomeini, who should know:

Allah did not create man so that he could have fun. The aim of creation was for mankind to be put to the test through hardship and prayer. An Islamic regime must be serious in every field. There are no jokes in Islam. There is no humor in Islam. There is no fun in Islam. There can be no fun and joy in whatever is serious. (emphasis added)

Hollande, his lady-ministers, and all of France—indeed all of us in the West, if we will not wake up—may be in for a rude surprise indeed.
James P. writes:
The ridiculousness of the female cabinet ministers is found not merely in their attire, but in their backgrounds and roles. Two of them are not even French—Fleur Pellerin is South Korean, and Najat Vallaud-Belkacem is Moroccan. As for their functions, would anyone even notice if France did not have a culture minister, a small and medium enterprises minister, an ecology minister, or a minister for women's rights? All of these posts are sinecures invented for just such Leftist nonentities as these women.
LA replies:
Culture Minister has been an important or at least highly visible position in past years. When Jack Lang was Culture Minister he was constantly in the news.
Paul K. writes:
Isn't it exhilarating to think of the new sexy, stylish France these liberated cabinet ministers are helping to bring about!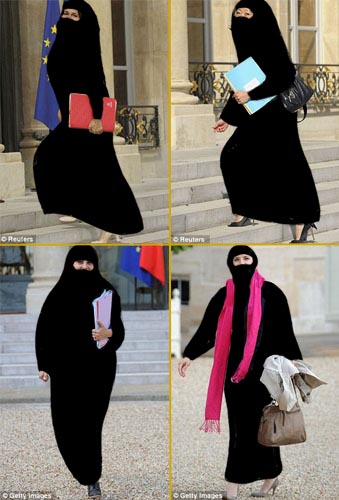 Alexis Zarkov writes:
My daughter attended high school dressed as though she were going to work at a business office. Her attire was far more conservative than any of these Hollande babes. But this is France, the country Eisenhower described as a washed up empire in his memoirs. Indeed the whole of Western Europe is in extreme decline, financially, socially and politically. They are all but asking Islam to rule over them. Another example of Freud's Todestrieb—… the drive towards death, self-destruction and the return to the inorganic: 'the hypothesis of a death instinct, the task of which is to lead organic life back into the inanimate state' (Freud: The Ego and the ID). By the way, my daughter tells me that today some young college girls attend college classes in their pajamas!
LA writes:
Among other entries on this same subject, see the 2007 entry "Cleavage in the cabinet: another ridiculous female in government."
An Indian living in the West writes:
The French socialists are worse than a sick joke. Hollande is worth a million plus and calls himself a "socialist." They love to hang around with the high society crowd in Paris and then parade their moral vanity for being morally superior to people like Sarkozy, the "evil capitalist." And these women are worse than ridiculous. Imagine a contrast between these women and Mrs. Thatcher. It is almost as though a few centuries separate them, not a few decades.

This is, in any case, a sideshow. The extent of the problems facing France are no longer a well hidden secret. France is on its way to bankruptcy. And, unlike Greece, it is too big to be bailed out. Some stories are already indicating the coming break-up of the EU followed by financial chaos within a matter of months. France will almost certainly default on its debt if the EU goes. It will be a financial catastrophe for France.

I am in the process of making arrangements to leave Europe permanently. Singapore or Hong Kong is where I will probably end up. And I can watch this absurd spectacle with some detachment and sheer bemusement.
LA replies:
But if you re-locate to Hong Kong or Singapore, we'll have to rename you, "An Indian formerly living in the West."
ILW replies:
LOL!

Or you can re-name me, "An Indian living in the FAR East." :)
Daniel S. writes:
Exactly how do these Western liberal political elites expect to be taken seriously? Are they so deluded that they think the Arabs, Iranians, Turks, and Chinese will respect them for advancing mindless liberalism at the expense of their own society? As far as France is concerned, are these assorted women the sort of people the French will be looking to when the next Mohamed Merah rears his head?
Posted by Lawrence Auster at June 26, 2012 08:41 AM | Send