Hollande's cabinet babes
As I
have
observed
before, when you put women into high political positions, while removing the male standards from an earlier age to which public women were expected to conform, you turn politics and society into a joke.
Here
, reported by
Daily Mail
, is the latest installment of the joke that Western society has become: François Holland's female ministers showing up for a cabinet meeting at the Elysée Palace.
For example: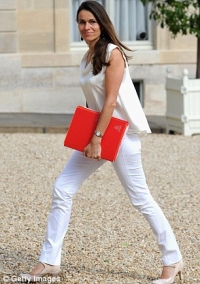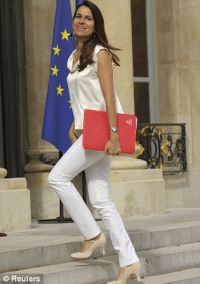 French Culture minister Aurelie Filippetti elegantly glided up the steps,
casually glancing back at photographers, as if she were on the catwalk
By the way, notice that Aurelie's face is not particularly attractive. But that's the way it is with Frenchwomen. For the most part they not very good looking. It's their inner sense of themselves as women, the way they carry themselves, that gives them their allure.
But see, I'm using the word "allure" in relation to heads of government departments. Which returns us to the realization that Western society has become a joke.

Posted by Lawrence Auster at June 25, 2012 08:27 AM | Send