"I am that N-word!"
Roland D.
writes:
From the horse's mouth—black man shoves over female TV reporter, hijacks her microphone, uses racial epithet to describe himself.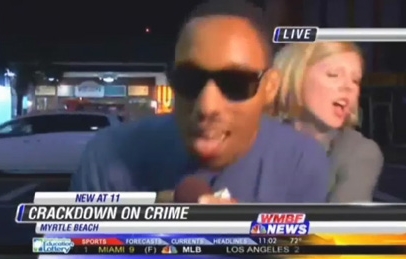 The story is from
The Smoking Gun
:
Man Arrested For Live Assault On TV Reporter
Suspect interrupted piece on Myrtle Beach crime rate

APRIL 19—In the midst of a live TV report about a South Carolina crime crackdown, a 20-year-old man last night shoved a female reporter, grabbed her microphone, and screamed, "I am that nigger!" into the camera.

Shortly after bumrushing reporter Ashley Taylor, 23, during her report on the 11 PM news, Justin Moore, 20, was collared by Myrtle Beach cops. Taylor, a reporter with WMBF, an NBC affiliate, was not injured during the incident.

According to a Myrtle Beach Police Department report, Taylor told cops that "4-5 black males" approached her crew as they prepared for a report. "When she went live with her report one of the black males pushed her to the side almost to the ground and ripped the microphone from her hand."

After interrupting the broadcast, Moore ran off "laughing and yelling," reported police. He was later located by cops—who examined video of Taylor's report—and apprehended after he attempted to flee. Moore, a Charlotte, North Carolina resident, was also positively identified by Taylor.

Moore, pictured in the above mug shot, was charged with misdemeanor assault and battery, disorderly conduct, and resisting arrest. He is being held in the Horry County jail in lieu of $1356 bond.

Before Moore interrupted her broadcast, Taylor was planning to report on how escalating crime rates were impacting businesses along Ocean Boulevard, where she had set up with her crew. Immediately after Moore yelled "I am that nigger," WMBF cut away from Taylor's report.
Here is an
image
of the police report. Note that the victim reported the perp as saying, "I am a nigger," not "I am that nigger." Also it says that the suspect is "hate / bias motivated."
- end of initial entry -

Diana M. writes:
Perhaps Moore was channeling Bush the Elder, when he said in his 1988 acceptance speech, "I am that man"?

Perhaps he was giving advice to the man in the White House, the one who could be his father, on the upcoming General Election?

Justin Moore is quite a nice name. This is one black gentleman who does not behave the way his name would suggest.
LA to Diana M.:
That's very funny. I've changed the title of the entry to reflect your comment.

Perhaps, as indicated in the police report, he said, "I am a nigger," rather than "I am that nigger." But "I am that nigger" is much funnier and more apropos. After all, the TV reporter was speaking about crimes in Myrtle Beach, so by saying "I am that nigger," Moore was saying, "I am the one (symbolically, anyway) who committed those crimes."

Also, saying, "I am a nigger" wouldn't make sense. "I am that nigger" does. So perhaps the news story reflects a correction of his, uh, declaration as first indicated in the police report.

Also, since it was on TV, it ought to be on Youtube and we could check it out.
Diana replies:
Thanks. It was the first thing I thought of, "I am that man… !"

These people never fail to astonish. Their methods of childish misbehavior are so gasp-inducing. There will be more, just you wait. The advent of digital media will make it impossible to cover up and deny this.
LA writes:
Here at YouTube is the next night's broadcast from the same TV station about the incident. They show it happening, but bleep out what he said. White people are so dainty. That's maybe one of the reasons God created black people: to help counteract against whites' frequently absurd abstractness, and provide a more primal and direct experience of life.

Here's another news report on the incident. It's also bleeped out, but before the bleep it does sound as though he's saying "I am that…" not, "I am a…"
Posted by Lawrence Auster at April 21, 2012 11:11 AM | Send