Washington Times writer doesn't know the difference between an announcement and an unsourced leak
An item
in the
Washington Times
this morning, by Kerry Picket,
begins
with this:
NBC announced on Friday that the "seasoned" producer who edited sound of the 911 call between George Zimmerman and a 911 dispatcher was fired.
As I read that, I thought, wait, didn't that news come out the other day via a leak, rather than an announcement from NBC News? So I clicked on the linked word "announced" and was taken to an AP story dated "2 days ago" (no absolute date, just a "x days ago") with this headline and lead:
Source: NBC producer fired over Zimmerman 911 call

NEW YORK (AP) — NBC News has fired a producer for editing a recording of George Zimmerman's call to police the night he shot Trayvon Martin, a person with direct knowledge of the matter said Saturday.
So my memory was correct. It was not NBC News in an announcement, but an unnamed source in a surreptitious leak to the press, which gave out this information. Kerry Picket gave an incorrect picture of what had happened when she reported that NBC had "announced" that the producer had been fired. The difference between an announcement and a leak in this instance is not trivial, since the use of the leak shows that NBC News is not taking responsibility for the problem but is downplaying as much as possible the serious journalistic malpractice within its organization.
I thought of sending an e-mail to Picket about her incorrect reporting, and clicked on her linked by-line. The resulting page tells us that she is "Editor/Blogger of the The Water Cooler, responsible for audio and visual editorial-commentary content." It had a photo of her, but no e-mail address. Look at her mindless facial expression: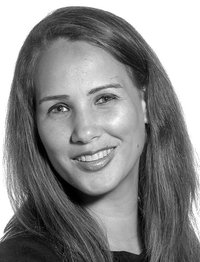 That's a person producing editorial-commentary content at a major American newspaper, writing about national news in our nation's capital. How many brainless females, typically with long blonde hair, and typically with first names like "Kelly," "Kerry," "Taylor," and "Preston," occupy jobs in this society for which they are unqualified?
I might add that Picket seems unacquainted with the past perfect tense. She wrote that "NBC announced [sic] on Friday that the 'seasoned' producer who edited sound of the 911 call between George Zimmerman and a 911 dispatcher was fired." That should have been "had been" fired, not "was" fired. Since "NBC announced" was in the simple past tense, the firing which preceded "NBC announced" needed to be in the past perfect tense, putting the firing in an earlier time than the announcement. Picket is a graduate of Denison University. Today's twenty-something college graduates occupying professional writing positions at national newspapers have a weaker grasp of English grammar and usage than 18-year-old high school graduates of a hundred years ago.
- end of initial entry -

Lydia McGrew writes:
I didn't know if you'd seen the news stories that the NBC producer responsible for editing the Zimmerman 911 tape has evidently been fired.
LA replies:
That came out over the weekend, but only from of an unnamed source at NBC telling the NY Times.

I just posted an item on how the Washington Times fouled up the story, saying that NBC News had "announced" the firing, when in fact they leaked it.
Christopher B. writes from England:
I wonder why no one is asking whether the person who edited the tape is black. Is this a forbidden question in the U.S.? Perhaps the news station have not named him or her because that person has an obviously black name.
Posted by Lawrence Auster at April 10, 2012 11:24 AM | Send