Two blacks pull man from car and beat him on head with hammer
(UPDATE, April 4: the victim of this savage attack is white. See
follow-up
.)
The story, in the April 2 Orlando Sentinel, following the usual media protocol, does not report the race of the perpetrators, it just shows us their subhumanly brutal faces. And of course it does not refer to the race of the victim, who is on life support.
Vast numbers of total savages are walking around at liberty in this country, ready to strike at any moment, and, as far as America's public culture is concerned, this phenomenon does not exist. It is never discussed. All we have are the separate local crime stories, which report the bare facts of each crime, but say nothing about the pattern of which they are a part, their meaning.
Meanwhile, what does exist, as far as America's public culture is concerned, is, you know, a genocidal war by racist whites (like George Zimmerman) against helpless blacks.
Two arrested in brutal hammer beating in Seminole

A tip to Crimeline has led to the arrests of two men in a brutal beating that occurred a week ago in the Midway community east of Sanford.

Julius Ricardo Bender, 18, and Yahaziel Isaac Israel, 19, face charges of attempted first-degree murder, burglary with assault or battery and armed burglary.

The victim, a 50-year-old Winter Springs man whose name has not been released, is on life-support at Orlando Regional Medical Center.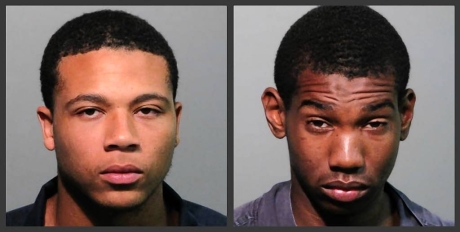 Julius Bender and Yahaziel Israel
Funny, they don't look Jewish
Deputies were called to the area of Lincoln Street and Beardall Avenue about 6:30 p.m. March 26 to investigate a report of a man being beaten, Seminole County Sheriff's spokeswoman Heather Smith said.

They found the victim in the woods on the north side of Lincoln Street.

According to arrest affidavits:

A witness told deputies he heard someone screaming for help and saw two men pull the victim from his vehicle. He said he watched as one man held the victim and the other beat him in the head with a hammer.

After they dragged the victim into the woods, the men drove away in his sport utility vehicle, which was later found abandoned about a half-mile away on Garbo Jack Lane.

Investigators got a break in the case Thursday, when a tip to Crimeline named Bender and gave the street name of the second suspect.

On Friday, investigators learned Israel's fingerprints had been found both inside and outside of the victim's vehicle.

The witness was shown photo lineups and picked out Bender and Israel as the men he saw beating the victim. He said Bender was the man wielding the hammer.

Both men were arrested late Friday.
Posted by Lawrence Auster at April 03, 2012 10:23 PM | Send