experiment on Australian incident
The Daily
Mail has many more
photos
of the incident at the Canberra, Australia restaurant where government leaders were meeting in honor of Australia Day and pro-Aborigine protesters banged on the restaurant windows yelling "shame," and "racist." The government leaders are seen fleeing the restaurant, and it's possible that some of Prime Minister Gillard's disarray (discussed in the previous
entry
) was due to her body guard who is dragging her along. But if he is dragging her against her will, which is certainly not helping her escape any more quickly or safely, why did she not take command of the situation and stop him and insist on walking under her own power, as everyone else in the scene was doing?
However, that's not why I am posting this follow-up. I'm posting it because what we see in these photos is a group of people, including Australia's top politicians, running away from a threat which, to all appearances, was non-existent. No violent protesters are seen in any of the photographs. No dangerous actions, beyond their initial banging on the windows of the restaurant, are described. There is no indication, verbal or photographic, that they chased or menaced the politicos as the latter fled in near-panic. The Australian political elite and their security guards thus end up looking like a bunch of fools. In the below photo, opposition leader Tony Abbot (wearing sky blue tie), jogging along calmly behind Prime Minister Gillard who is being ignominously dragged backward, looks like the only person in the group who has kept his head.
I don't want to shrink the photo to fit it on the main page, as that will lessen its drama, so click on More to see it: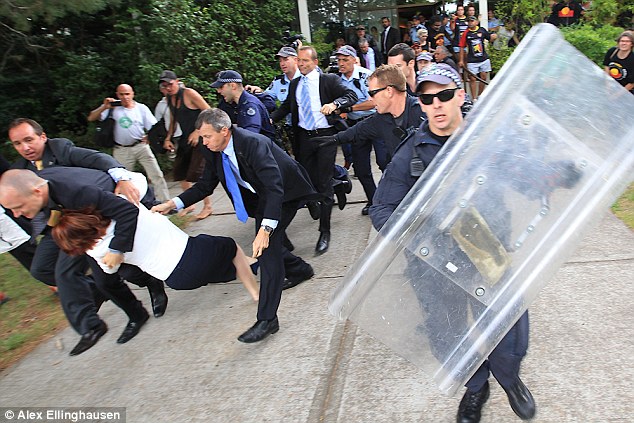 As the Book of Deuteronomy says about the moral and physical curses that will fall on the Israelites if they reject God: "They will flee, though none pursues." And this is the fate of the modern West, which has rejected God, nature, tradition, nationhood, and more. No external enemy is destroying it. It is destroying itself.

Posted by Lawrence Auster at January 13, 2012 10:16 PM | Send