"I am the 53 percent."
I did
not get around to posting some of the handwritten "I am the 99 percent" signs, which are quite amusing and revealing. But here is a good sign from the other side, the "53 percent who pay taxes":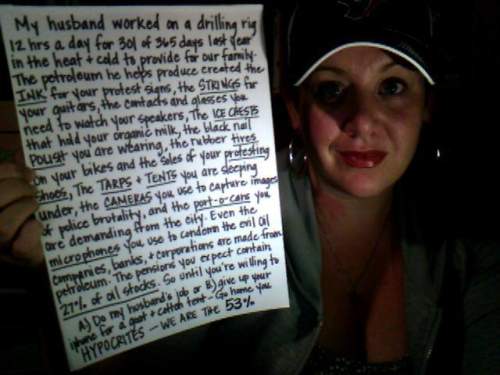 Comments
David G. writes:
The sign is great and indicative of one of the many flaws in the thinking of the left as well as most ethnic/minority groups. It is the "magical thinking" syndrome that says, "All of this would have been ours, had it not been for evil whites (or Europeans, Americans or Capitalists)." For example, when the Reconquista-types hold up signs stating that Americans stole their land there is an assumption that all of the good things that, say, California produced, would have somehow been the domain of the Mexicans: the first-class universities,the high-tech businesses, the banks, the grocery stores, the rule of law, the great neighborhoods, beach culture, etc. It's as if they believe that whoever got control first were the recipients of the magic seeds, as in Jack and the Beanstalk. Plants those seeds and up springs all of the aforementioned institutions and cultural expressions.
Roger G. writes:
Or as P.J. O'Rourke said, we stole the part with all the good roads.
Posted by Lawrence Auster at October 31, 2011 09:10 AM | Send