Rich guys pushing Christie
As soon
as I read the lead of this
New York Times
article
last night,
Meet the Draft Christie committee, a small but influential group of Republican-leaning donors and activists, many based in New York, united by a shared desire to see Gov. Chris Christie of New Jersey run for president…
I thought to myself, I bet the same Republican donors who
foisted
homosexual "marriage" on New York State are behind this draft-Christie move.
And sure enough, in the very next paragraph, the Times listed "Paul E. Singer, the publicity-shy hedge fund magnate and Republican activist who is among the most-sought-after Republican donors in the country," as one of the money men pushing Christie. Singer, the chairman of the "conservative" Manhattan Institute, was also one of the three "super-rich Republican donors," all of them Jews (is it legitimate to point that out? one reader thought not), who, as the Times triumphantly reported on June 25, supplied the crucial lobbying money that pushed the homosexual marriage bill through.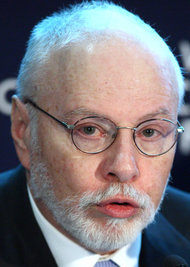 Paul E. Singer: Because his son is homosexual, the basic
institution of human society has to be turned on its head.
The good news, reported today, is that apparently Christie is sticking to his long-standing position and is not going to accept the money men's blandishments to run for president (
here's why
it's good news). But it must have been a hell of a temptation, to have billionaires knocking at your door offering you their all-out financial support if you will be a candidate.
(UPDATE, Sept. 28: I am bewildered by the numerous reports today saying that Christie in his appearance at the Reagan library last night kept the rumors of his possible candidacy afloat. In the account I read last night [no link, sorry], Christie three times replied to questioners in clear and unambiguous terms that he would not be a candidate.)
September 26, 2011
Wealthy, Influential, Leaning Republican and Pushing a Christie Bid for President
By NICHOLAS CONFESSORE

They are rich. They are unattached. They are looking for a little excitement.

Meet the Draft Christie committee, a small but influential group of Republican-leaning donors and activists, many based in New York, united by a shared desire to see Gov. Chris Christie of New Jersey run for president.

There is Kenneth G. Langone, the billionaire Home Depot founder who is perhaps Mr. Christie's most fervent booster; Paul E. Singer, the publicity-shy hedge fund magnate and Republican activist who is among the most-sought-after Republican donors in the country; and David H. Koch, the industrialist, Tea Party benefactor and, according to Forbes, the richest man in New York.

Charles R. Schwab, the personal investment guru, is also among those who have shown interest in seeing a Christie presidential bid, according to published reports and people familiar with the discussions, as is the financier Stanley F. Druckenmiller. So are the hedge fund managers David Tepper and Daniel S. Loeb, a onetime supporter of President Obama.

In recent months, Christie enthusiasts have lighted up the phone lines between Manhattan and Trenton trying to persuade the governor to enter the Republican field amid growing concern about the current contenders.

Several dozen potential Christie backers attended a meeting in July convened by Mr. Langone to introduce the governor to top-shelf Republican donors, many of them on the sidelines so far in the 2012 campaign. Others saw him in action in June, when Mr. Christie quietly flew to Colorado to speak at a private retreat hosted by Mr. Koch and his brother, Charles, another prominent Republican donor.

And while Mr. Christie has so far resisted their entreaties, he is facing a renewed effort in recent days following stumbles by Gov. Rick Perry of Texas, whose debate performances and stances on Social Security, immigration and other issues have left many major donors looking again for someone they think can take on Mr. Obama next year.

"Christie understands what it is like to be a Republican in the Northeast," said Lynn Krogh, a Republican campaign consultant in New York, adding: "He's practical. He's not just a barnburner."

Buzz about Mr. Christie's presidential prospects intensified in recent days after a previously unknown group, the Committee for Our Children's Future, unveiled a $1.5 million television advertising campaign in New Jersey promoting Mr. Christie's accomplishments.

"Runaway spending. Record debt. Gridlocked government. Washington is backwards," the script reads. "But Chris Christie, with bipartisan support, is taking New Jersey in another direction."

The group was formed by Christie friends dating back to his undergraduate days at the University of Delaware. A Republican affiliated with the group, who agreed to speak in detail about its origins in return for anonymity, said it was formed as a way to defend against labor union attacks in New Jersey.

And this week, Mr. Christie will attend a series of fund-raisers with national Republican donors in California and Missouri, where he will raise money for the New Jersey Republican Party.

"I was at a conference this week with a lot of high-powered people," said Bradford M. Freeman, who led California fund-raising for George W. Bush. "People just said he was fantastic. Those that know him or have heard him speak are very enthusiastic. He's articulate, he's done a good job in New Jersey, he has good charisma."

But for influential local Republicans—and more than a few wealthy Democrats—Mr. Christie is the hometown prospect, a firebrand fiscal conservative whose 2009 defeat of Gov. Jon S. Corzine, a Democrat, was among the first real rebukes to what they saw as Mr. Obama's fiscal profligacy and harsh attacks on Wall Street.

Many have ties to the Manhattan Institute, an incubator of the brand of urban conservatism—heavy on criticism of public employee unions and runaway state budgets—to which Mr. Christie is the country's most visible Republican heir. Mr. Singer is its chairman; Mr. Christie last year delivered a speech there titled "The Christie Reform Agenda."

Other fans, like Mr. Langone, have roots in the 2008 presidential campaign of Rudolph W. Giuliani, the former New York mayor whose pugnacity and politics roughly mirror Mr. Christie's. And a large contingent hail from the world of high finance, at whose Midtown Manhattan corner offices Mr. Christie's swagger and in-your-face style would not be out of place.

"I had Christie to our board meeting the April after he took office, and he knocked their socks off," said Kathryn Wylde, president of the Partnership for New York City, a business group with a gold-plated roster of prominent Democratic and Republican moneymen. "And ever since, there's been nothing but enthusiasm for him. He's considered smart, courageous, a straight talker, kind of an antipolitician."
Posted by Lawrence Auster at September 27, 2011 09:24 PM | Send