Every day, somewhere in the West, another 9/11 is taking place
In Kent
, England, a Muslim man is being
held on suspicion
of setting the house fire that killed his English wife and their baby and seriously injured her mother, father, and brother.
Why did this happen? Because, having been taught by liberal society to believe that differences don't matter, and that Muslims are just like us, she married him, and when the differences between them led her to leave him, which dishonored him, he killed her, as innumerable Muslim husbands have done before him.
Why did 9/11 happen, along with every other Muslim mass murder and attempted mass murder of Americans before and since 9/11? Because, believing that differences don't matter, and that Muslims are just like us, we let Muslims into America, joyously welcoming them as a wonderful addition to our country. We "married" the Muslims, and they, having grievances and agendas of which we have no conception, proceeded to kill us.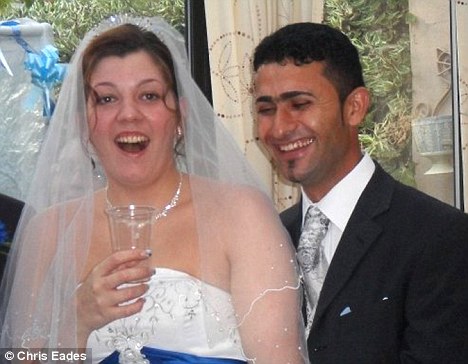 Suicide of the West in miniature: Melissa Crook and
Danai Muhammadi on their wedding day.
The story is in today's
Daily Mail
, which has more photographs of the burned home:
Husband held on suspicion of murder after house fire that killed his wife and baby

The estranged husband of a young mother has been held by police on suspicion of killing her and their baby in an arson attack.

Danai Muhammadi, 23, was yesterday being questioned over the deaths of his wife Melissa Crook, 20, and 15-month-old son Noah, who were killed in a blaze that ripped through her family home at 2.30am on Saturday.
For the past few months Melissa and the baby had been living back at her parent's three-bedroom terraced house in Chatham, Kent, following a series of heated rows.

A family friend said: 'Mel went up to London last week to meet Danai to try to sort things out.

'They had been living in Coventry but she came back to Kent with her baby.'

Melissa's father Mark Crook, 49, suffered serious burns and is fighting for his life following the suspected arson attack.

Her brother Bohdan, 21, broke both his legs as he was forced to leap from a first-floor window to escape the inferno. Her mother Amanda, 39, was also being treated in hospital for burns.

It is thought that Melissa and her father were trapped in the front bedroom along with baby Noah when the ceiling collapsed.

Emergency services were called to the fire at the house at 2.30am on Saturday.

Neighbours were evacuated as firemen feared the blaze would spread.

Mother-of-two Nicola Barrett, 46, who lives nearby, said: 'You could see flames in the top of the bedroom.

'It was gutted out but you could still see the flames.'

Kent Police Chief Superintendent Neil Jerome said: 'Our hearts go out to the family and friends of those who have been involved in this very tragic fire.'

Last night detectives were continuing to question Muhammadi and a 37-year-old man, who also knew the family, over the fire.

Andy Merriman from Kent Fire and Rescue said firefighters had to fight their way past a fierce blaze to get into the property.

'Crews were confronted by an extreme fire early in the morning,' he said.

'The incident was a very serious incident in which our crews managed to fight their way in to prevent further spread to adjoining properties. But tragically two people have died.'
- end of initial entry -

Clark Coleman writes:
Let's not act as if this arson is evil. According to the quoted official, it was a tragic fire.
Posted by Lawrence Auster at September 12, 2011 06:42 AM | Send