How a British liberal atheist novelist thinks that the savage violence unleashed by British liberal atheism can be ended
Talk about
synchronicity. As I was writing, but before I had posted, the previous two entries on the wages of secular liberalism (
here
and
here
), Paul T. sent this:
In a column titled "A Broken Britain," Tom Rachman at Slate writes:

The political class may have been caught out, but the culture betrayed signs of problems earlier…. Ian McEwan's 2005 novel Saturday tells of a London neurosurgeon who crosses paths with a demented thug, only to have the man invade his life and threaten his family. The book's resolution is rather optimistic, with the surgeon's daughter—forced to strip before the thug—managing to subdue him by reading poetry.

Right, lads. The Prime Minister has said that riots are to be suppressed, so, beginning next week, all bobbies will be issued with copies of The Oxford Book of English Verse.
LA replies:
Forced to strip before the thug? We are instantly reminded of this, from the recent riots: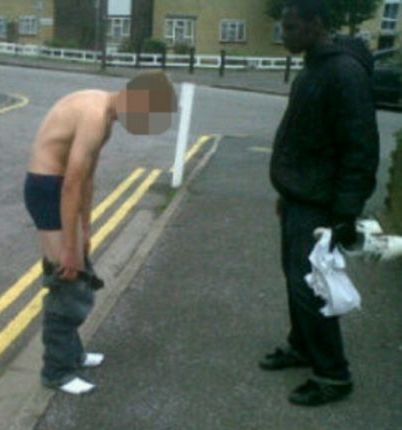 The Perfect Symbol of Black-Run Britain
Posted by Lawrence Auster at August 12, 2011 11:29 AM | Send