One of Nkosi Thandiwe's two surviving victims may be paralyzed; and, a syndrome named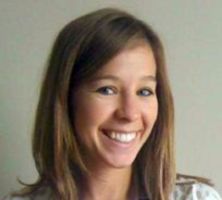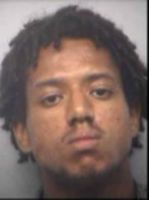 Britney Watts and Nkosi Thandiwe
Earlier this
week VFR
reported
on the murder of 26 year old Britney Watts in Atlanta. On Friday July 15, at lunchtime, security guard and college graduate Nkosi Thandiwe, 22, stationed himself by Watts's car in a parking garage across from the Proscenium building on Peachtree Street where they both worked. As she approached her car, he shot her in the neck, killing her. Then he got into her car and drove off, in the process shooting and wounding two more young women, Lauren Garcia and Tiffany Ferenczy. Ferenczy was not seriously injured, but Garcia was shot in the spine. Today the
Atlanta Journal-Constitution
tells us
that Garcia, 23, could be paralyzed from her lower body down for the rest of her life.
Thandiwe, whose mother is a constitutional lawyer, has no previous record of criminality or violence. Britney Watts had started her job in the Proscenium building a month ago, and there is no indication that Thandiwe had had any social contacts with her. Authorities do not know of any motive on his part, or of any recent deterioration in his behavior indicating that he might become violent. In the earlier entry I suggested that his murder and shooting spree could be attributed to "Sudden Savage Syndrome," a play on "Sudden Jihad Syndrome." But, given the way he lay in wait for Watts and then shot her dead, a better label strikes me: "Sudden Beltway Sniper Syndrome."
Meaning that a previously non-violent black, for no particular reason, suddenly decides to ambush and shoot dead a white person.
Here's the story on Lauren Garcia:
Survivor of Midtown shooting has spinal cord injury
4:09 p.m. Thursday, July 21, 2011

One of the women who survived a fatal Midtown shooting spree last Friday will begin treatment for a serious back injury, and could be paralyzed below the waist, area spinal center officials say.

One woman was killed and two others wounded Friday, July 15, 2011, shortly before noon at a parking deck at 14th Street and Crescent Avenue in Midtown.

Lauren Garcia, 23, was shot in the back last week outside her office building when Nkosi Thandiwe allegedly killed another woman in a parking deck and fired sporadically as he made his escape.

Garcia was transferred Thursday from Grady Memorial Hospital to the Shepherd Spinal Center in Atlanta to have her injuries assessed by specialists there.

"Ms. Garcia sustained a spinal cord injury at the T-10 level from a gunshot wound," Shepherd spokeswoman Caroline Hemingway said in a statement released Thursday.

Hemingway pointed to a website produced by the Shepherd Center to illustrate what that level of injury might mean for Garcia. According to the site, the area of Garcia's spine that was damaged could cause paraplegia, or paralysis of her legs and lower body.

"After doctors at Shepherd Center determine an appropriate treatment plan for Ms. Garcia, she will begin a rehabilitation program under the guidance of a full team of medical and rehabilitation specialists," Hemingway said.

Typically, that team includes a physician, nurse, peer counselor, nutritionist and a host of therapists from occupational and physical to recreational, hospital officials say.

Brittney Watts, of Decatur, died on the scene of the lunchtime shooting rampage, and Tiffany Ferenczy, Garcia's co-worker, suffered an injury to her calf.

Ferenczy returned to work Wednesday, said Mark Scott, senior vice president of MSL Atlanta, where she and Garcia work.

Thandiwe allegedly fled in Watts' car, driving it to southwest Atlanta. He later contacted a lawyer and turned himself in to police early Friday evening, surrendering a handgun to authorities at the time, officials said.

He is charged with one count of murder and two counts of aggravated assault, and remains in the Fulton County jail as he awaits a bond hearing later this month before a Superior Court judge.

Garcia is from Lithia Springs and graduated this year from UGA with a degree in public relations, according to the campus newspaper, the Red and Black.

As she moves to the next stage of recovery, she will be bolstered by the support of hundreds of well-wishers—more than 700 at the time of publishing—who have responded to a Facebook event called "Thoughts and Prayers for Lauren Garcia."

"Just keep Lauren Garcia and her family in your prayers while they deal with this horrible tragedy," the page says.

Garcia's family has declined requests for interviews, Hemingway said.

"The family is appreciative for the outpouring of support from the community, but requests privacy during Ms. Garcia's recovery and rehabilitation," she said.
Posted by Lawrence Auster at July 21, 2011 07:18 PM | Send