Boswell intruder is identified
Three days
ago, I wrote about the
incident
at Rep. Leonard Boswell's Iowa farm:
There is no description of the intruder, other than that he is an "armed man." Given that this armed and dangerous individual is at large, why does the Courier not describe him? Have you ever heard of a local newspaper reporting about an armed and dangerous man—a criminal who has attacked people and is likely to attack again, a criminal whose description is readily available from the people whom he has already attacked—that does not provide a physical description of him? I'm not jumping to any conclusions about the characteristics of the criminal in this case. What I'm saying is that the contemporary news media's policy of withholding physical descriptions of criminals, which is done in order to cover up the true degree of black criminality in our society, results in a failure to give necessary physical descriptions even when the criminal is not black.
In that same entry, a commenter pointed out that it was unlikely that the intruder was black, given that there are few blacks in Iowa, and that he was probably Hispanic, of whom there are many in Iowa.
As it turns out, both I and the commenter were wrong. The immediate reason there was no description of the intruder was that, as reported in yesterday's Des Moines Register, he wore a ski mask. And the intruder was not Hispanic, but black. The article shows these photos of the still at-large intruder, David Dewberry, and of his getaway driver, Cody Rollins, who has been arrested. Note how the paper puts the white getaway driver first, and the actual intruder to the right, not making it clear in the caption that it was the latter who was the intruder: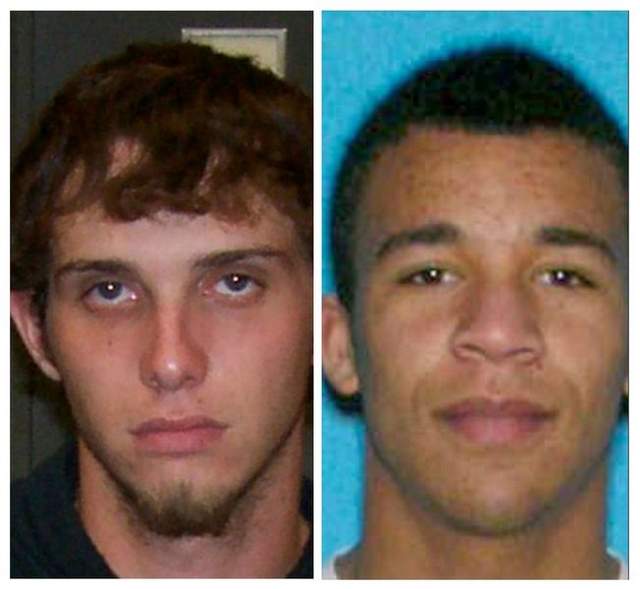 Cody Rollins, 19 (left) was arrested in the case late Monday night in a
weekend home invasion at the farmhouse of Rep. Leonard Boswell,
D-Iowa. David Dewberry (right), 20, of Nebraska, is still being sought.
And there's more:
The sheriff said Dewberry used to live in the Lamoni area, and his mother was a friend of Boswell's wife, Dody. Dewberry and his mother had been invited to the Boswell home several times, Muir said. "He knew his way around the farm. I think he knew a little bit about what the house looked like."
I'm reminded of Rudy Guede, the black African immigrant in Perugia, Italy, who was invited several times to parties in an apartment of male students in the same house where Meredith Kercher and Amanda Knox also had their apartment. Then he came back to rob the girls' apartment, and murdered Meredith.
Also, based on Dewberry's light complexion and his black-sounding surname, there is a good chance his mother, the friend of Rep. Boswell's wife, with whom Dewberry visited the Boswell farm, is white. Rudy Guede, after his father returned to the Ivory Coast, was informally adopted by a white Italian man who took care of him, but then Guede went downhill and became a criminal.
Here is the article
Leon, Ia.—The young man who allegedly attacked Congressman Leonard Boswell and his family in their home Saturday night is the son of a family friend, authorities said today.

The intruder's alleged getaway driver, Cody John Rollins, 19, of Lamoni was arrested about midnight Monday, Decatur County Sheriff Herbert Muir announced this afternoon.

The alleged intruder, David Palmer Dewberry, 20, of Fremont, Neb., was still at large. Authorities asked the public to be on the lookout for him, but said that if anyone sees him, they should call police instead of confronting him because he might be armed and dangerous.

Dewberry was charged with third-degree theft in a Davis County juvenile court in 2009, online court records show.

Persons with information about Dewberry should call the Decatur County Sheriff's office at (641) 446-4111.

Dewberry faces felony charges of burglary and assault while committing a felony.

Authorities said Dewberry was the man who donned a ski mask, armed himself with a realistic-looking BB pistol and walked into the Boswells' house near the southern Iowa town of Davis City. After the intruder threatened the Boswells' daughter, Cindy Brown, the congressman wrestled him to the ground. Then the Boswells' grandson got a loaded shotgun and pointed it at the would-be robber, who fled into the night.

Authorities said at a press conference today that after the incident, local residents started providing tips about who might have committed the crime. Sheriff's officials also were aware of Rollins and Dewberry.

Muir said the men had caused trouble in the past, though he did not give specifics.

The sheriff said Dewberry used to live in the Lamoni area, and his mother was a friend of Boswell's wife, Dody. Dewberry and his mother had been invited to the Boswell home several times, Muir said. "He knew his way around the farm. I think he knew a little bit about what the house looked like."

Barry Ferguson, an FBI supervisor from Des Moines, said the men did not apparently target the family because of Leonard Boswell's status as a congressman. "All indications are at this point that this was a home invasion to get money and that's it," Ferguson said. If it turns out that the men did intentionally attack a congressman, they could have faced a federal charge for it.

Ferguson said other federal charges are still possible, including if Dewberry fled over state lines to avoid arrest.

The sheriff said Rollins told authorities that he and Dewberry only expected one or two people to be at the home Saturday night. He said Dewberry had recently returned to the area from Nebraska and was considered "transient."

Leonard Boswell released a statement thanking law officers for quickly solving the crime. "With today's new developments, I know my family and my neighbors around the farm will rest easier with a suspect identified and another individual already under arrest. I have returned to my job in Washington, and I am confident in the authorities handling the investigation back in Iowa."

The incident happened about 10:45 p.m. Saturday. The congressman, his wife, their daughter and grandson were home when a ski-masked intruder walked in through an unlocked door. He first encountered the Boswells' daughter, who screamed as the man put a pistol to her face and a hand to her throat. The congressman said Monday that he ran in, tackled the man and wrestled on the floor with him.

Boswell's 22-year-old grandson, Mitchell Brown, grabbed a shotgun and pointed it at the intruder, who ran out the door. Dody Boswell said Monday that the man dropped the pistol, which turned out to be a BB gun, as he fled. He also dropped a bag, she said.

The congressman, who is 77, broke a rib and suffered bruises during the scuffle.

Rollins is being held in the Decatur County Jail and faces charges of first-degree burglary, assault while participating in a felony, going armed with intent and three counts of robbery in the first degree. Rollins is being held on $50,000 bond.

If convicted, he could face up to 65 years in jail.

Iowa court records show Rollins was served with a protection order in a 2006 domestic abuse case just three months before the case was dropped. In 2009, Osceola police charged him with a willful injury (a felony form of assault) in a case that later was referred to juvenile court.
James P., who sent the article, writes:
That explains how Boswell could wrestle with the guy without getting shot—it was only a BB gun.
LA replies:
But it wouldn't explain how he didn't get shot with the BB gun.
- end of initial entry -

James P. writes:
You wrote to me in an e-mail:

"The story says he wore a ski mask during the attempted robbery. That's why there was no description of him."

But they could still describe his sex, height and weight, clothing, and even his race, as the authorities did for these bank robbers in Minnesota (whose races are provided regardless of them wearing ski masks). To refuse to say anything about him was weird to say the least.
LA replies:
In the first two days of the story, they didn't even report that the intruder was wearing a face-covering mask. Nor did they think of saying, "No description of this armed and dangerous person is available, because he was wearing a mask that covered his face." Why such weird journalistic behavior? It goes back to my initial observation. Because of the huge number of black criminals in our society and the media's need to cover up this fact, the once-time automatic practice of describing criminals has been dropped, even when the perpetrator is not black. The new ethos goes so far that even if there is a non-racial reason for not providing a description, e.g., the perpetrator was wearing a mask, the press does not think of telling readers about that.

Why then did they finally report, a full two days after the crime, that the intruder wore a mask? Here's my guess. They had arrested the getaway driver, who is white, and they also had a photograph of the suspected intruder, who is black. Now that they had photographs, they didn't have to be so cagy about descriptions.
Karl D. writes:
Is it just me or does this Dewberry character bear a striking resemblance to our current president? I keep a loaded Mossberg 500 shotgun next to my bed for this very scenario. Some people (mostly liberals) think I am being paranoid. But when you live alone in the sticks like I do it just makes common sense. In fact, not too long ago there was a weirdo trying peoples doors in my area. A State trooper came by to ask if I had seen anything. I didn't and told him I was armed, so God help him if he tried to break in while I was home. He didn't say, "Call us first" or "Be careful with that," or any other patronizing liberal cliché you would expect. He simply said, "Good for you. I wish more folks were armed." It made me feel very good to be treated as a rational and responsible adult rather then a foolish child.
Posted by Lawrence Auster at July 20, 2011 12:43 PM | Send