Strauss-Kahn, cont.
Two interesting
DSK-related stories in today's
Times
: an
account
of the tense situation yesterday after the luxury East Side apartment building that had been arranged as DSK's residence in lieu of Rikers Island turned him down at the last minute because of concerns about media intrusion and another apartment had to be found on the double; and a
profile
of Strauss-Kahn's famous and wealthy wife,
Anne Sinclair
, who was born in the U.S. but has lived in France since her teens, and who for many years was France's top TV interviewer.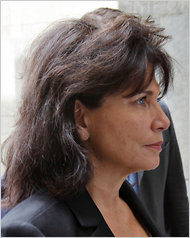 Anne Sinclair
The piece on Sinclair quotes a remark of hers that shows us once again, paraphrasing F. Scott Fitzgerald, that the French are different from you and me:
There is no doubt that Ms. Sinclair was aware of her husband's skirt-chasing, but in public, at least, seemed not to care. Asked in 2006 by L'Express if she suffered from his reputation as a womanizer, she said: "No! I'm even proud of it. It's important to seduce, for a politician. As long as he is still attracted to me, and I to him, it is sufficient."
- end of initial entry -
May 22
Kidist Paulos Asrat writes:
I used to watch Anne Sinclair do news, or current affairs, programs. I thought she was very "sympa" or nice, and pretty, unlike, say Christine Ockrent, another French news anchor. At least Sinclair married Strauss-Kahn many (twenty) years ago, while Ockrent's Wikipedia profile calls politician Bernard Kouchner her "life partner." A French article from 2010 says "bientôt mariés?" and "en couple depuis le début des années 1980" and cites Ockrent's age at the time as 66 and Kouchner's 70, with one teenage son. So they must have decided to get married after almost thirty years together. Better late than never, I guess! But, it's all variations of the same theme, isn't it? Married to a skirt-chasing husband, or living with a "life partner" who is faithful. Hemingway's quote comes to mind again.
Posted by Lawrence Auster at May 21, 2011 03:38 PM | Send