African-American First Lady meets African First Lady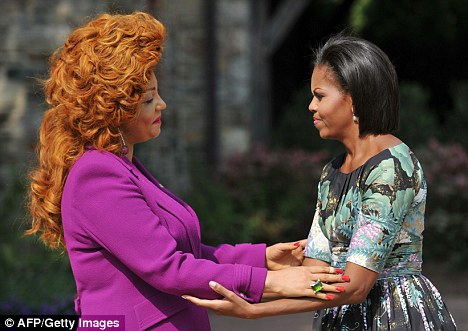 Michelle O. with Chantal Biya, wife of the Cameroon president
As always, Michelle strives to show off her best feature, her trapezoid
muscles (bulging around her neck). Also striking is her noble profile.

The
Mail
reports
:
U.S. First Lady Michelle Obama did well to keep a straight face as she embraced the lion-maned wife of the Cameroon president.

Chantal Biya was sporting the gigantic orange hairdo on a tour hosted by Mrs Obama for the spouses of heads of government attending the United Nations General Assembly.
- end of initial entry -
Kidist Paulos Asrat writes:
That photo presents a strange juxtaposition of Michelle Obama with Chantal Biya, the First Lady of Cameroon.

I must say, for all the exaggerations that Chantal displays—too red a hair piled too high up, extraordinarily high heels, a gaudy purple suit, and too much rouge on her cheeks—I still prefer her attempt at femininity. She even looks pretty in one of her photos (she smiles prettily, at least). I can see how her country folk might like her. Michelle just looks dowdy and dumpy, besides the clearly heavier Mrs. Biya, who managed to conceal some of her weight through her attire. And look at Michelle's flats (in silver, no less). Mrs. Biya didn't shy away from high heels (with pretty bows), which I'm sure she wore as much as a fashion statement as a way to appear taller.

I really think now (after trying to figure out her "fashion sense") that Michelle simply makes bad choices. To be a harsher, she has no idea about fashion, and how to look attractive. Most women figure these things out in their early adulthood. What a First Lady to have, and to have to look at!
LA replies:
It's true, for all her outlandishness, Mrs. Biya still fits into the range of normal human beings, while Michelle (to my eyes and mind, I realize others react differently) does not. To me there is always something alarming and unnatural about her. And the harder she tries to seem normal, the more unnatural and scary she becomes.
Paul K. writes:
Thank you for bringing African First Lady Chantal Biya to my attention. What a world-class character! Look at the photo of her with the pope.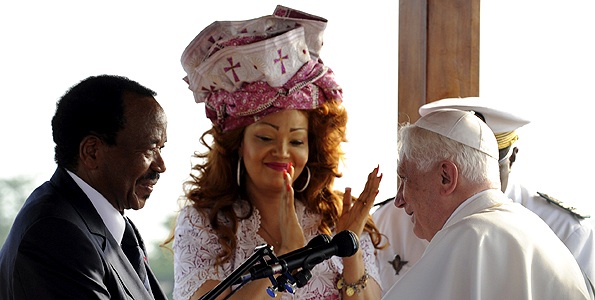 LA replies:
I think Chantal is charming. If people think she's too extravagantly decked out for a meeting with the pope, I'd say that extravagance is very much a part of Roman Catholicism. Her hat seems very Catholic, in an original, African sort of way, and not especially more outlandish than the head gear of the Swiss Guards who protect the pope:
Posted by Lawrence Auster at September 29, 2010 08:59 AM | Send