Two homeowners shoot burglars in two separate incidents in same town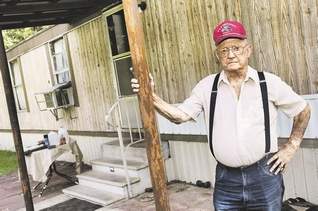 Donnie Baggett of Louisiana: after being burgled twice in one week, he took action
From a news site in central Lousiana (though when I saw the name Alexandria I assumed it was Virginia):
Intruders gunned down in 2 Alexandria-area home invasions, police report
August 3, 2010

Two Alexandria-area men fended off would-be burglars Monday morning with gunfire, killing one and putting two more in the hospital in two unrelated cases, police report.

The first incident took place around 1:30 a.m. in the 6000 block of Old Boyce Highway near Alexandria when Donnie Baggett—asleep on the floor of his living room—allegedly heard a noise and looked up to see a masked man standing over him, Baggett said. He grabbed his .38-caliber pistol and "took a couple of shots at (the intruder). Apparently, I hit him."

The suspect—whom authorities had not identified as of Monday evening because the case was still under investigation—was later admitted into a local intensive care unit in an Alexandria hospital, Rapides Parish Sheriff's Office authorities said.

Three hours after the Old Boyce Highway incident, a similar scenario occurred on the other side of Alexandria.

Armed men entered a home around 4:25 a.m. in the 4900 block of Willow Glen Street in Alexandria, city police officials said. Resident Roy Harris Jr., his wife and two young children awoke during the break-in.

While his wife and children hid, Harris grabbed a gun and began firing at the intruders, police said. Harris shot and killed Darwin Johnson, 24, of the 2700 block of Ninth St., Alexandria, authorities said.

Harris also shot and wounded another suspect, who went to a local hospital for surgery, police said. The suspect was in stable condition as of Monday evening.

Police did not release the identity of the injured suspect because the incident is still under investigation. Officers were told there might have been a third suspect, but they were not able to confirm it.

Harris declined to comment about the incident.

No charges have been filed against Harris or Baggett.

For Baggett, this was not the first time someone has broken into his home. He had been sleeping on the floor of his residence since Wednesday night after someone burglarized his home two days in a row, he said. He awoke last Tuesday to find one of his exterior doors wide open and his television, pet shears, refrigerated food, rifle and wristwatch missing.

He reported the break-in to authorities and purchased a new television and dog shears, he said. On Wednesday morning, he found that his new TV, an air conditioner, groceries, refrigerated food, $200 to $400 cash from his wallet and new dog shears were gone, and the door was open again.

"Apparently, he (the thief) was going to move in with me," Baggett said in an interview Monday. "He spent as much time in my place as I did last week."

Baggett began sleeping on his floor with his pistol until Sunday night, he said. He figured out how the burglar was getting inside and posted himself near there facing the entry point.

Concerning the two failed home invasions Monday morning, Baggett said, "Maybe some of these guys might want to pick a new occupation."

[end of article]
I wrote this e-mail to the reporter:
David Dinsmore
thetowntalk.com

Dear Mr. Dinsmore:

You describe these burglaries as "home invasions." That's incorrect. They were not home invasions, they were burglaries. A burglary is when a person illegally enters private property and steals things. A home invasion is when people illegally enter a home in order to terrorize, harm, or kill the residents. Burglary is an old and familiar crime; home invasion is a new type of crime, as shown by the fact that the term "home invasion" has only been around for the last 20 years or so. If we start calling all burglaries "home invasions," we lose the distinction between them.

Regards,

Lawrence Auster
New York City
- end of initial entry -
Stephen T. writes:
Thanks for making that distinction clear. Another fact: The kind of garden-variety burglar who does residential theft is almost never the same guy who does home invasions. It's a totally different profile.

But there's another distinction that may apply in these two cases, both of which happened at night. Once a burglary was happening down the street from me in the middle of the afternoon at a house where nobody was home. A passerby saw it and reported it. The first officer to respond happened to be a lone undercover cop wearing jeans and a baseball cap on backwards. He had a gun under his sweatshirt and put his hand on it, but did not draw it. Without hesitation (and with sort of a demeanor like he had better things to do than this) he walked briskly up to the house all by himself, opened the door, and simply yelled inside for the burglar to come out. The guy slunk out and was arrested. After it was over my neighbor and I asked the officer why he didn't wait for backup to arrive or at least draw his weapon. He just sort of scoffed at that and said, "DAYLIGHT burglars are almost always harmless." (he put emphasis on "daylight.") Don't know if it's true or not, but I thought that was an interesting distinction — day vs. night — and have never forgotten it.
Stewart W. writes:
I think there may be an additional distinction to which Stephen T. hints. In the gun world, people talk about "home invasion robberies," while in Britain (where the percentage of this type of crime is very high), they are referred to as "hot burglaries." The distinction is whether the burglar believes the home to be occupied when he enters. If he believes the home is empty or the occupants are asleep, that would be classified as a straight-up burglary. However, if he knows people are home and doesn't care, and enters the home armed and in force (as in the second case in the article), that would be classified as a home invasion, even though very often the intent is still just steal property. In fact, if the robber is brazen and believes the homeowner has a safe, there is a motivation to enter when people are home, so the homeowner can be forced to open the safe.

Nevertheless, the home invasion robber is much more frightening, and the crime is much more likely to end up as a homicide, because the criminal doesn't care about witnesses, and isn't worried about the very high percentage of Americans who are armed.
Posted by Lawrence Auster at August 04, 2010 09:54 AM | Send