Serb goes on trial in Serbia for repeatedly kicking the head of an American student causing severe brain injury
Until a
few years ago, scientists believed that there had been no genetic interplay between the Neanderthals and our species, though more recent studies have suggested the presence of some Neanderthal elements in the Homo sapiens genome. If we do have some Neanderthal in us, is it not seen in this brute's face?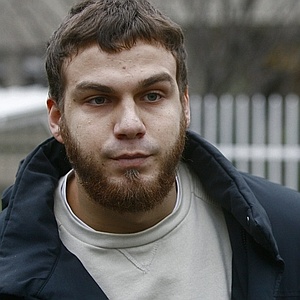 Miladin Kovacevic
And by the way, that's not an anti-Serbian comment. Kovacevic does not at all look like a typical Serb. Most Serbs I've seen have rather narrow features.
UPDATE
Richard W. writes:
This article explains that red hair is likely a trait that is inherited from Neanderthal man, so your off-the-cuff remark is backed up by the latest data from Oxford University.

Here's a reconstruction of a Neanderthal, in the Daily Mail in 2007.

And here's another.
The
story
is in the
New York Post
:
BELGRADE, Serbia — A former college basketball player from Serbia who jumped bail in the U.S. after allegedly beating an Brooklyn student into a coma will go on trial in his native country tomorrow.

The First Municipal Court in Belgrade said today that 23-year-old Miladin Kovacevic is accused of inflicting "severe bodily harm with possible deadly consequences" on Brian Steinhauer in May 2008 in upstate New York. If convicted, Kovacevic faces a maximum eight-year prison sentence.

Kovacevic also is charged with obtaining a false passport to flee the United States after the fight in a bar near Binghamton University, which both men attended.
The case had strained relations between Washington and Belgrade because Serbia will not extradite Serbian citizens. But the Serbian government has paid $900,000 to the Steinhauer family as part of an agreement to try Kovacevic here.

The 260-pound Kovacevic has been accused of assaulting the 130-pound Steinhauer, repeatedly, kicking him in the chest and head. Witnesses told police that the two men had exchanged harsh words after Steinhauer danced with the girlfriend of one of Kovacevic's friends.

The beating left the 24-year-old Steinhauer with skull fractures and a severe brain injury.

Two New York men of Bosnian origin were sentenced in January in Binghamton to two years in prison each for taking part in the assault together with Kovacevic.

Kovacevic escaped U.S. prosecution with the help of two Serbian diplomats who gave him the false passport. The two have been charged in Serbia with abusing their positions and face the same trial as Kovacevic.

Hillary Rodham Clinton intervened in the case, first as U.S. senator and later as secretary of state, as did U.S. Sen. Charles Schumer of New York, to make sure Kovacevic was prosecuted.
Posted by Lawrence Auster at June 27, 2010 01:57 PM | Send