Haitian man moves to small New Hampshire town; one week later, he murders female nursing student
And not
only that, but during that week the accused murderer, Roody Fleuraguste, was living at the home of the in-laws of the victim, Molly Hawthorn-MacDougall, who was to receive her nursing degree next week. He was living with his brother who worked as a caretaker for Molly's in-laws, who lived on the same street as Molly, who was murdered in her home by being shot in the face. So not only was the murderer brought into the victim's country and state and town, a town of 5,000 where there's been no murder in living memory, but into the bosom of her family. This isn't bringing sheep to slaughter. It's bringing the slaughterers to the sheep.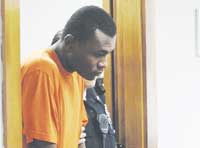 Roody Fleuraguste
Or, as I first
put it
last April, when immigrant Jiverly Wong committed mass murder in a Binghamton, New York immigrant center, and then again last October when a black UCLA student from Belize suddenly pulled out a knife and
slashed in the throat and stabbed
a white female student in a chemistry lab, and now with the attempted terrorist mass murder by a Pakistani immigrant in Times Square:
"Keep ancient lands, your civilized ways!" cries she
With silent lips. "Give me your head-cases, your screwy,
Your huddled mass murderers yearning to shoot free,
The angry misfits of your teeming shore.
Send these, the unassimilable, to me,
I lift my lamp beside the golden door!"
(I realize the phrase "your civilized ways" doesn't fit in the cases of Haiti and Pakistan. The parody was originally written with regard to a Chinese immigrant mass murderer, and China has an ancient civilization.)
Here is the story from the Union Leader, May 3. Below that is story about Molly Hawthorn-MacDougall, her family background and Quaker upbringing, and what she was like.
Haitian national charged in Henniker student's murder

HENNIKER—A Haitian man living in town with a relative for a week was arraigned Monday on a first-degree murder charge in the death of nursing student Molly Hawthorn-MacDougall.

Roody Fleuraguste, 22, with a last known address of 31 Rand Road, is being held without bail pending a probable cause hearing May 11.

He allegedly shot Hawthorn-MacDougall, 31, in the face on Thursday. Senior Assistant Attorney General Susan Morrell said investigators have recovered the handgun but so far are not commenting on the make of weapon or where it came from.

The state moved to seal court documents related to the case. Citing the pending investigation and collection of information, Morrell refused to elaborate on a motive when speaking to reporters after the arraignment.

"We can tell you that there was a connection between the victim and the defendant, Roody Fleuraguste, that Roody was living at 31 Rand Road, at the home of Molly's in-laws," she said. "He had been living there for about a week. His brother actually lives there and works as a caretaker for one of the Paul family's elderly (relatives), the elderly mother."

Fleuraguste was staying with his step-brother, Morrell clarified.

Hawthorn-MacDougall, who was married to Daniel Paul, also 31, was to graduate next week with an associate's degree in nursing from New Hampshire Technical Institute in Concord. The couple lived at 18 Rand Road, on the same street as the accused murderer.

Authorities found her body at the residence Thursday morning after a 911 call. The felony complaint filed by state police indicates the shooting occurred that morning.

Fleuraguste, who was arrested Sunday night on the first-degree murder charge, has been in the country since January, according to Morrell.

She did not know the nature of his departure from his homeland, but Haiti was hit with a magnitude 7.0 earthquake on Jan. 12.

With the victim's family and friends looking on, Fleuraguste sat hunched in his orange prison jumpsuit, his head bowed. Public Defender Jim Quay asked Henniker District Court Judge Brackett L. Scheffy to unseal the affidavit and arrest warrant for the defense.

" We need the information," said Quay. "The state is not giving us word one."

The judge asked him to put those motions in writing.

Fleuraguste required an interpreter because he does not speak English; his first language being Creole and his second being French, Quay said.

Henniker Police Chief Ryan Murdough said he could not recall the last time there was a murder in town. Henniker, a community in Merrimack County with an estimated population of 5,000, is best known for Pat's Peak Ski Area and New England College.
Here is an earlier
story
on the murder. And this is from an
article
about the victim:
Hawthorn-MacDougall's husband, Daniel Paul, 31, and other relatives plan to gather today to write her obituary, said Paul's father, who is also named Daniel Paul.

"I regularly pinched myself to make sure that it was real, that I was so lucky to have a daughter-in-law like Molly … I was amazed at what a beautiful, wonderful woman she was," the elder Paul said Friday.

Hawthorn-MacDougall grew up in Winchendon, Mass., and had two sisters, friends said. They were raised on Camelot Farm, a home for disabled veterans run by their parents, Margaret Hawthorn and Bruce MacDougall, since 1978, according to an 2001 article by Margaret Hawthorn on the Friends United Meeting website.

"Heady with the idealism of the late 1960s, we saw Camelot as a community where we could put our beliefs into practice. We appreciated that our children would grow up in a home where serving others was part of daily life. They would know firsthand that not everyone fits into the happy nuclear family scenario, and that we have a responsibility to care for those on the outside," Hawthorn wrote in the article.

Hawthorn-MacDougall and her sisters "had a strong spirit, and Molly was one that was seen as more quiet, but she was beautiful and talented and attentive," said Jean Stine, who taught Sunday school at the Monadnock Quaker Meeting in Jaffrey, where the family was active.

"It's a wonderful family," Stine said. "Very strong Quaker values … honesty and integrity and simplicity, and you don't go for the worldly flash, but you do the right thing, and you're concerned for others."

Hawthorn-MacDougall was "a very caring, dear person," said David Erikson, clerk of the Weare Monthly Meeting at Henniker. He said he had known her since she was a child, though she wasn't a member of the Quaker congregation.

"I can't think that anyone would ever have any negative feelings toward her, in my experience, having known her for almost 30 years," Erikson said. "So this is just unbelievable news."

Hawthorn-MacDougall was set to graduate from N.H. Technical Institute in Concord on May 14 with an associate's degree in nursing, said Alan Blake, a spokesman for the community college.

She was "a very well liked and well-known student among the nursing students and staff, and they were obviously very distraught and shocked over what happened," Blake said Friday. "Their thoughts and prayers go out to the family."
- end of initial entry -
Mark Jaws writes:
That was an excellent poem.

Perhaps some minor suggestions to improve it:

First line: "Keep ancient lands, uncivilized ways!" cries she

Fourth line: The angry mullahs of your teeming shore

Last line: I lift my lamp to show the welfare door
Posted by Lawrence Auster at May 04, 2010 08:56 AM | Send