The Undead Destroyers reach their high water mark
LL writes
:
This photo perfectly encapsulates the moment: a gaggle of smug white elites smiling with deep satisfaction while a nonwhite transfers wealth and power to the permanently disadvantaged under the gaze of an exemplar of that class (an overweight black boy whose mother died of pulmonary hypertension).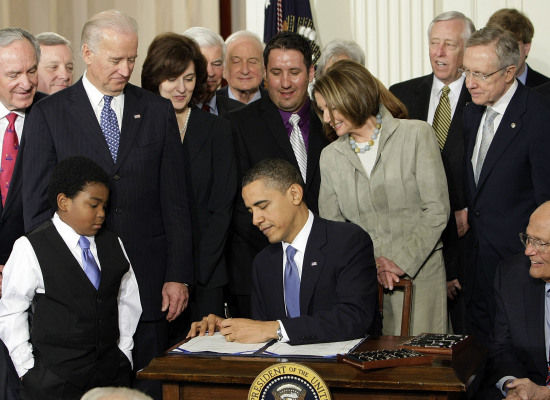 Comments
H. writes:
What an amazing photo. Note the similarity between the boy's clothes and the President's, which I take to indicate a line of ascension. Also note the boy's expression, which is rather different from those surrounding him—more a sense of cool expectation that grinning sycophancy.

I hope you're right, that this is indeed the "high-water mark."
LA replies:
"Cool expectation." Very good. The white politicians are in awe and deep emotion at this moment; the black boy is cooly receiving what he deserves. He even has his hands in his pockets—at this supremely historic moment.
H. replies:
I was going to mention the hands-in-pockets. Very business-like. He's the modern day JP Morgan. See, there's no need for riots—simply do your business, Obama.
LA replies:
It's as though the boy intuitively understands the symbolic role he is playing at this moment.
Karl D. writes:
I think everyone is over analyzing the kid in this picture. From his hands in his pockets to his symbolic presence. He is after all just a kid. While he may have a rudimentary understanding of what is going on around him and a grasp of the supposed "Historic nature" of the event, he is probably more interested in what is going to be on the buffet table afterwards along with being on TV then anything else. It is really disgusting how this kid has been used as a pawn. I noticed while watching the signing ceremony (which happened on my birthday thank you very much. Not!) he was pushed through the crowd by someone to make sure he was right next to Obama as he was signing. Pitiful.
LA replies:
It's not about the kid's conscious intention; it's about how the photograph expresses the truth of the event.
Jim C. writes:
That little porker is a strong candidate for type 2 diabetes, so it's important to spend a lot of money on his care because he will be the greatest matematician this side of Euler. God speed to you, chubby—and there will be plenty of affirmative action waiting for you at MIT.
Posted by Lawrence Auster at March 24, 2010 04:15 PM | Send