Where they get the data showing global warming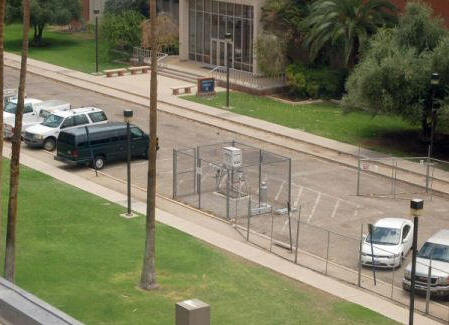 This is
an official climate station of the
United States Historical Climatology Network
(USHCN), located at the University of Arizona, Tucson. The weather-reading instrument is in a parking lot, surrounded by hot pavement, automobiles, automobile exhaust, and the heat of nearby buildings. Weather stations in urban heat islands such as this are among the sources of the "unequivocal" proof of global warming, as
discussed
in yesterday's London
Times
.
The photo was posted in 2007 by climate warming critic Anthony Watts, at Watts Up With That? Watts's report on the tainted temperature data from weather stations located in heat islands and even directly next to heat sources such as air conditioning units is mentioned in the Times article and also in a piece in today's Telegraph.
- end of initial entry -
Bill from Maryland, who sent the photo, adds:
The photo was taken by critic Warren Meyer, who has put together an excellent 90 minute video on the technical issues involved in AGW.
Posted by Lawrence Auster at February 15, 2010 01:34 PM | Send