Murdered Salvation Army major had been working in crime-ridden black neighborhood
Here is
an AP
story
on the murder of Salvation Army Major Philip Wise in Little Rock. Other than leaving out the race of the killers (which so far only the
Arkansas Democrat-Gazette
has
mentioned
), it provides facts that other stories have missed. For one thing, Wise's three children, who were standing next to him when he was shot dead by two black thugs, were all adopted last year, siblings from an abusive family. Also, "Wise had worked for three years in Baring Cross, a low-income neighborhood troubled by gangs and drugs." So he's a white who was trying to help blacks. And he died the Christ-like death at the hands of the nonwhite Other that liberals think the entire white race should undergo.
Here's a picture of Philip Wise.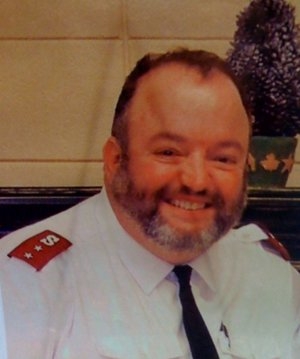 He doesn't look like a liberal sap or a male Amy Biehl. He looks like a man with some vigor. But given the neighborhood he was working in, he should have been carrying concealed. After all, even Jesus
commanded his disciples to carry swords for self defense
when they were going about doing his work.
Salvation Army Major Shot in Front of Children
Friday, 25 Dec 2009 09:08 PM
Article Font Size

LITTLE ROCK, Ark.—A Salvation Army worker was shot and killed Christmas Eve in front of his three young children during an attempted robbery outside the charity's community center in North Little Rock, a Salvation Army official said Friday.

North Little Rock police said they were looking for the two men who accosted Salvation Army Maj. Philip Wise outside the community center about 4:15 p.m. Thursday. No arrests have been made.

The two men fled on foot into a nearby housing development, police Sgt. Terry Kuykendall said Friday. Police don't know whether Wise, who was active in the community, knew his attackers, he said.

Wise, 40, had gone to the community center with his children to pick up his wife—also a Salvation Army major—to drive to his mother's home in West Virginia, said Maj. Harvey Johnson, area commander of the Salvation Army. As Wise neared the side door, two men approached.

Both men were carrying hand guns, police said. One demanded money and shot Wise, Pulaski County Coroner Garland Camper told the Arkansas Democrat-Gazette. Wise's wife, Cindy, was inside the center and called 911.

Blood stained the sidewalk outside the center Friday.

The Wises had just adopted their children—ages 4, 6 and 8—last year, Johnson said. The three were siblings who came from an abusive family. They were receiving counseling after their father's death, he said.

Kuykendall said the children were standing beside their father when he was shot, but there was apparently no interaction between the youngsters and the two men.

Wise had worked for three years in Baring Cross, a low-income neighborhood troubled by gangs and drugs, Johnson said. He ran youth programs, a food pantry and church services.

"He was involved in the fabric of that community in a lot of different ways," Johnson said.

He described Wise as "a big boy" who played "a big old tuba" in a brass ensemble and used his love of music to try help others.

"He encouraged kids in music as an alternative to the life they were living," he said.

Kuykendall said he knew Wise, although they were not close friends.

"Mr. Wise within the last two months had spent so much time raising money so that several hundred children in this community could have a good Christmas, and for this to happen … on Christmas Eve is just a tragedy," he said.

Wise was originally from Weirton, W.Va., and his wife, Cindy, was from Charleston, W.Va. They met 16 years ago at a Salvation Army school in Atlanta, Johnson said. Both had worked for the Salvation Army ever since.

"He's touched a lot of people," Johnson said. "But who would he have touched if he had been able to live out his career?"

© Copyright 2009 The Associated Press. All rights reserved. This material may not be published, broadcast, rewritten or redistributed.

[end of article]
Here is another
article
(very brief) which says the suspects are black.
The racial composition of North Little Rock where the "gang and drugs" infested Baring Cross neighborhood is located is:
* White Non-Hispanic (61.5%)
* Black (34.0%)
* Hispanic (2.4%)
* Two or more races (1.3%)
* Other race (1.2%)
* American Indian (1.0%)
Here, from the
Arkansas Democrat-Gazette
, is an
article
about life and death in the neighborhood of Baring Cross in North Little Rock. Some excerpts:
"The most important thing for me is raising my son to be a good man," said RayShaun Wilson, 26. "All the violence out here, all the drugs. Man, I just try to keep my head down and keep out of the way. You try to stand up around here and you just become a target."

…

FEARFUL AND POWERLESS

People in the neighborhood say the same thing. Yet fear keeps them quiet. And feelings of powerlessness keep them quiet.

"We don't march, we don't fight back," said Eula Scroggins, 52, for 24 years a custodian at Boone Park Elementary School. "Because we know what could happen to us if we do. I have no idea if the good people are the majority around here anymore."

This North Little Rock neighborhood north of Baring Cross is home to less than 10 percent of the city's population of almost 60,000, yet almost half of the city's dozen homicides in the past year happened there.

Compared with the rest of the city, census data show, this neighborhood is more poor, more black and has a smaller proportion of people employed full time.

…

Residents talk about the plagues of drugs and disrespect that drag them down further.

"You should never see a 7-year-old child coming in here with four, five hundred dollars in his pocket, thick gold chains on his neck," Scroggins said. "But it happens."

The drug of choice, residents and police said, is "sherm," cigarettes dipped in formaldehyde and smoked. Sometimes some of the tobacco gets replaced with marijuana. Each "stick" costs about $10—cheaper than cocaine and giving a longer-lasting high.

Wilson said part of the reason he keeps his apartment and his 5-year-old son hospital-clean is because he feels grimy walking outside, hearing neighbors tell people in cell-phone conversations that they can pay their debts in cash or sherm.

"It just ain't right," he said.

…

[About the impossibility of getting people to give information about a murder in Baring Cross]

But, he said, he doesn't believe it will happen there.

"I'm sorry, but this is just what happens in black neighborhoods," he said. "You go into a white neighborhood, you go into the Heights, and if something happens, man, people know a man's height, weight, their clothing, eye color, shoe size and the color of their underwear. Yet in a black neighborhood, 100 people could have been there, but nobody saw nothing. That's what has to change."
The reality is that there's no reason to believe that it will change. Because, as I
wrote
in "My Views on Race and Intelligence":
Now, since we experience many blacks as good people, we naturally assume that blacks are equal to whites in the larger sense of being able to maintain a decent, humane, lawful society. But this is an illusion. The personal decency, goodness, and humanity of individual blacks does not translate into the ability to resist public evil, the aspiration to enforce social order. Those things require a degree of moral will, intelligence, and organizing energy that blacks, collectively, do not seem to possess. In any black-run society we can think of, from Washington, D.C. to Haiti to the Congo, good people end up suffering under the rule of despots, crooks, and incompetents.
Posted by Lawrence Auster at December 26, 2009 01:58 AM | Send