Britain's new guardian
The British
Home Office's Interventions Unit was created to identify radical Islamic individuals and groups and divert them from their radical ideology.
Here is the new head of the Interventions Unit: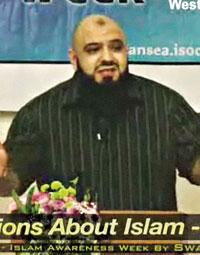 His name is Asim Hafeez. Not only is he a Muslim. He is, as Diana West
shows
, an at least covert exponent of the ideology of the Muslim Brotherhood. His statements strongly suggest that he regards the British government as illegitimate and wants to replace it by the true "Constitution"—the Koran. In short, the British Labor government has picked a jihadist to divert jihadists from jihadism.
West concludes: "[W]ith no one in responsible positions of power paying attention, short of a revolution, the subversion of a great civilization will continue unimpeded."
While I agree with West about the need for revolution, I think the problem here is worse than a failure to pay attention. I've been saying for years that the ultimate end of Western leftists, whether they are conscious of it or not, is to surrender themselves—literally—to Islam. Appointing such a figure as Hasim for such a post is perhaps the clearest example of that surrender that we have seen.
- end of initial entry -
December 11
Matthew H. writes::
When I saw the photo of the ghoulish looking freak who has been appointed to be head of the UK Home Office's Intervention Unit I was curious about the dark spot on his forehead. Then I remembered.

It happens that I just finished Paul Theroux's book, Dark Star Safari, about his travels in east Africa. In Muslim nations like the Sudan many men sport this mark. It is a callous from repeatedly touching their foreheads to the floor in prayer to Allah. Theroux says the locals refer to it as a "raisin."

Now a man with a "raisin" from repeatedly bowing in obeisance before a deity that commands his followers to struggle, by all means fair or foul, to convert, dominate or kill "infidels" has attained a high position in the British security apparatus.

Richard Coeur d'Lion where are you? Shame, shame, shame.

To your UK readers I say:

Englishmen, Scotsmen, Irishmen, Welshmen, sons of Celts, Angles, Saxons and Normans: Rise up! Throw off this evil government of yours. Tell Brussels to drop dead.

Demand that your Queen take a stand for her people and her realm or be swept aside.

In God's name get up!

You don't believe in God? Then do it in the name of your own manhood, for the sake of your children's freedom, for the sacred dead of the Marne and the Somme!

Your football hooligans are notorious around the world but when their very country is on the brink where are they? At the pub.

And stop sniveling about the BNP being "racist." At least they're not cowards.

Your government has squandered your wealth, disarmed your people and brought chaos to your towns.

What have they given you that you would be ashamed to be called names by them or put in one of their jails?

Your enemies have no such scruples. They will happily suffer and die to destroy your country and crush your ancient liberties.

This man, a defender of the realm? Are you out of your minds?

An American patriot once said, "Give me liberty or give me death!"

You are a brilliant and noble nation!

Get up and Fight! Or be damned!
Posted by Lawrence Auster at December 10, 2009 08:44 PM | Send