White student dies from beating
Christopher Kernich
, the Kent State student whom a group of blacks beat and stomped in the head after he or one of his friends yelled, "Watch what you doing" when the blacks' car had almost hit them (as discussed
here
), died Saturday night, six days after the beating.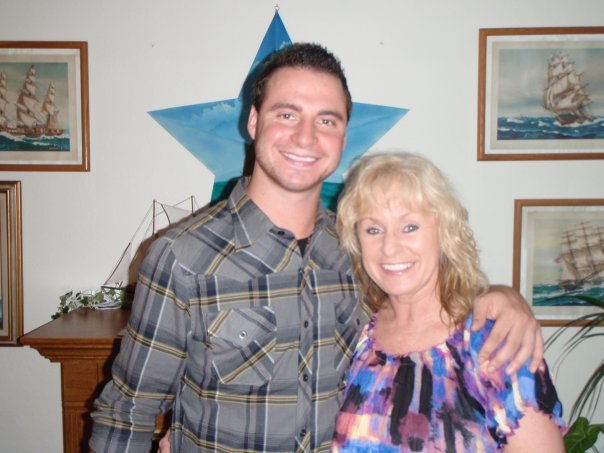 Comments
Karl D. writes:
This story makes me so sad and so angry at the same time. That picture of the victim standing next to his mother (I assume) could very well be myself. Just like the Daily Mail, American Renaissance, V-dare, yourself and others, there is a never ending line of these types of stories with no end in sight. And the Liberal media just keeps on burying its head in the sand. Hollywood keeps cranking out Eloi training films one after another. Right now we have three films out that spring to mind. First we have "The blindside" with Sandra Bullock. A wealthy white southern woman with a husband and children takes a huge homeless teenage black kid off the streets and moves him into her home. Of course this being Liberal Hollywood everything goes swimmingly and her family is unharmed, unmolested and of course learned from him and were richer for it. Then we have "Invictus". A film that takes place in the midst of Nelson Mandella's early presidency in South Africa. Whites again save the day (bizarre, especially coming from Liberals) by winning a Rugby championship game. The message being we are all Africans (the almost entire team being white) and now that Mandella is president we can all live in peace and harmony. Almost the same promise we got with Obama. Then we have a film that shows the nightmare of what it is like to grow up in a black ghetto environment called "Precious." Granted, this is not what every black household is like. But if it reflects even a quarter, then it is a damming statement. Here is the plot summary from Wikipedia:

"In 1987, obese, illiterate 16-year-old Claireece "Precious" Jones (Gabourey Sidibe) lives in the New York City neighborhood of Harlem with her dysfunctional family; she has been impregnated twice by her father, Carl, and suffers constant physical and mental abuse from her unemployed mother, Mary (Mo'Nique). The family resides in a Section 8 tenement and subsists on welfare. Her first child, known only as "Mongo" (short for "Mongoloid"), has Down Syndrome and is being cared for by Precious's grandmother. After Precious becomes pregnant for the second time, she is suspended from school but her junior high school principal , Mrs. Lichtenstein (Nealla Gordon), arranges to have her attend an alternative school, which she hopes can help Precious change her life's direction.[6]

Precious fights to find a way out of her traumatic daily existence through imagination and fantasy. While she is being raped by her father, she looks at the ceiling and imagines herself in a music video shoot; in the video, she is the superstar and the focus of attention. While looking in photo albums, she imagines the pictures talking to her. When she looks in the mirror, she sees a pretty, white, thin, blonde girl. In her mind there is another world, one in which, unlike her real one, she is loved and appreciated.

Inspired by her new teacher, Precious begins learning to read. She gives birth to her second child and names him Abdul. After Precious's mother deliberately drops three-day-old Abdul and beats Precious, she flees her home permanently. Precious finds new confidence with the help of her teacher, Miss Rain, and begins raising her son in a half-way house while she continues to improve academically. However, her mother comes back into her life to inform Precious that her father has died of AIDS. Later, Precious finds out that she is HIV positive, but Abdul is HIV negative. The film ends with Precious still resolved to improve for herself and for her children. She severs ties with her family and makes plans to complete a General Educational Development test."

And there you have the Karl D. Eloi film roundup.
Posted by Lawrence Auster at November 24, 2009 02:48 PM | Send