What liberalism does to the military
Steve Burton
at
What's Wrong with the World
brings out an aspect of the massacre and its aftermath that I've noticed from the start but not commented on. The phenomenon I'm referring to was captured in the front page
photo
of last Friday's
New York Times
: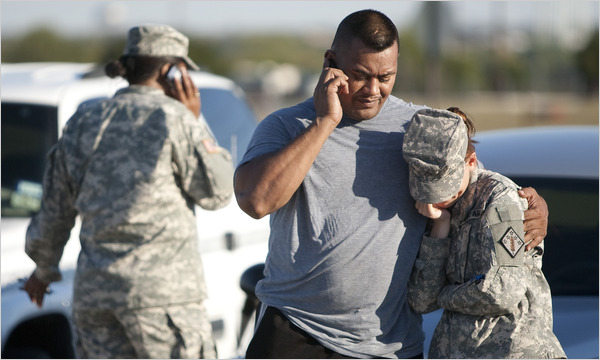 A feminized, largely minority military, dressed in their shapeless, silly pajama suits, a.k.a. Army fatigues, looking like well-fed welfare recipients rather than soldiers, react to the massacre by hugging each other and talking on cell phones. Of course, the
Times
chose that shot because it has a policy of publishing front page photographs with subtly subversive and demoralizing messages. But in this case the shot reflects a reality. As I've said before, when Americans react so cluelessly and pathetically to mass murders in general and jihadist attacks in particular, you know that more such mass murders and jihadist attacks will be coming.
Burton throws a crimp into his otherwise strong point—that the U.S. Army, or least the brass, have become a bunch of sobbing sissies—with an off-note reference to the Mathew Shepherd case, suggesting that Americans should emulate homosexual rights fanatics when one of their own is murdered.
Burton writes:
Muscular Christianity

Army chaplain seeks prayers for meaning in rampage:

An Army chaplain asked mourners Sunday to pray for the accused Fort Hood shooter, calling on them to focus less on why the tragedy happened and more on helping each other through "the valley of the shadow of darkness."

"Lord, all those around us search for motive, search for meaning, search for something, someone to blame. That is so frustrating," Col. Frank Jackson told a group of about 120 people gathered at one of the post's chapel. "Today, we pause to hear from you. So Lord, as we pray together, we focus on things we know."

Worshippers at the 1st Cavalry Memorial Chapel hugged each other and raised their hands in prayer during the service, in which Jackson asked the congregation to pray for the 13 dead and 29 wounded that Maj. Nidal Malik Hasan is accused of shooting. The chaplain also urged the crowd to pray for Hasan and his family …

..Across the sprawling post and in neighboring Killeen, soldiers, their relatives and members of the community struggled to make sense of the shootings. Candles burned Saturday night outside the apartment complex where Hasan lived …

Pathetic.

And the army brass is no better:

Army Chief of Staff George Casey warned against reaching conclusions about the suspected shooter's motives until investigators have fully explored the attack. He said on ABC's "This Week" that focusing on Hasan's Islamic roots could "heighten the backlash" against all Muslims in the military …

I dunno 'bout you, but the first word that springs to my mind, here, is "emasculated." And the second word is "incurable" (with a tip o' the hat to Nietzsche).

I mean, when Mathew Shepard got strung up on that fence in Wyoming, did gay rights advocates go around praying and lighting candles for his killers? Did they worry that focusing on their "homophobia" might lead to a backlash against heterosexual males?

So who're the sissies now?

One of the great ironies of our time is that professional anti-Christians like Richard Dawkins and company are forever going on about selected nasty bits of the Old Testament and unpleasant episodes from the remote history of barely Christianized Germanic tribes, while totally ignoring both the New Testament and the state of Christianity today. I read their stuff, and think to myself: if only. If only Christianity still had a spine. If only it had not become a by-word for supine passivity in the face of evil.

[end of Burton blog entry]
Posted by Lawrence Auster at November 09, 2009 02:26 PM | Send