Satanic rap community connected with pastor's murder
(Note see the
quotations
from Melanie Wells's MySpace page.)
Emma Niederbrock, the apparently murdered daughter of the slain Presbyterian pastor Mark Niederbrock, was part of the "satanic rap community," which is mourning the death of her and her female friend (see links provided by Brandon F., below). As of this point only her father's body has been identified, but it's likely that Emma and her unnamed female friend mentioned in the AP story are among the victims, as they were reported missing prior to the discovery of the bodies.
Based on another photo I can't reproduce here (see Team Death link below), the girl with the red hair is Emma, and the other girl is Mel.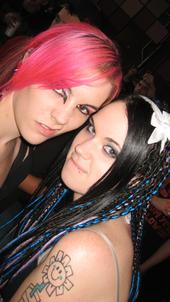 Brandon F. writes:
This picture is a collage of "ragdoll" and mel. You have to scroll down the page a little to see it.

I think this might be Emma's MySpace page, "Ms. Free Abortions"

Syko Sam's myspace. This is nothing new, it's just in a rap form. Satanic metal music has been around for decades.

Team Death (God is for the weak) [LA comments: What? Was Emma a follower of Richard Dawkins and Daniel Dennett?]
There is a
story
in the
Richmond Times-Dispatch
which repeats the AP story but also has new information, such as that Debra Kelley, the professor in whose house the bodies were found, is the ex-wife of Mark Niederbrock and the mother of Emma. Also, it says that two of the bodies were so badly decomposed they can only be identified by dental records. (I thought the murders took place in the last two or three days.)
September 20, 2009
Suspect arrested in four Farmville slayings
Longwood professor 'loved her work'
Map of Farmville, murder site

Police captured a young California man at Richmond International Airport yesterday who is the suspect in the slayings of four people at the Farmville home of a Longwood University professor.

Farmville police confirmed only the identity of Mark Niederbrock, pastor at Walker's Presbyterian Church in the Hixburg area of Appomattox County, among the victims found Friday at the home of Debra S. Kelley, a Longwood professor from whom he was separated. The other victims were females, police said.

Kelley and Niederbrock have a daughter, Emma. Another teen was believed to be visiting at the home.

The suspect, Richard Samuel Alden McCroskey III, 20, of Castro Valley, Calif., was found sleeping at a baggage area at Richmond International Airport and arrested without incident about 11:25 a.m. He had stolen a car from the home, wrecked it before leaving the Farmville area and arrived at the airport in a cab, authorities said.

McCroskey has been charged only in the death of Mark Niederbrock, officials say.

One of his MySpace pages on the Internet included apparent correspondence with Emma Niederbrock, who appeared to have left a message about two weeks ago saying she was looking forward to seeing him. Throughout yesterday, friends of Niederbrock posted condolence messages. Although she doesn't use her name on her MySpace page, friends posted messages and e-mails to one another throughout the day naming her and mourning her death.

On his other MySpace page, McCroskey listed a song called "Murderous Rage" that references getting rid of bodies "before the corpses start to get to rotting."

Wade Stimpson, acting chief of the Farmville Police Department, said McCroskey and one of the victims recently had attended a music event in Michigan.

Police said the state medical examiner's office likely won't have positive identification or cause of death for the victims until tomorrow. They declined to discuss motive or how the victims were killed. They also were trying to determine when they were killed.

At least two of the bodies were so badly decomposed that they will have to be identified by dental records, said Dennis Sercombe, a Longwood vice president.

John Goin, an elder at Walker's Presbyterian, said Niederbrock was last seen at a church event Wednesday evening.

Officers were alerted to Kelley's home at 505 First Ave., a few blocks from campus, on Thursday when the visiting teen's mother called from West Virginia to say she was worried about her daughter, who was supposed to be staying at the house.

Police checked the home that day, and McCroskey answered the door and said the daughter had gone to the movies and also that he had talked to her mother, Stimpson said. Authorities confirmed that the mother had spoken to a man by phone who told her the same thing, so police were not suspicious.

On Friday, the mother contacted police again and asked them to make a second check. An officer arrived shortly after 3 p.m. and smelled what he believed was a decomposing body. Police entered the home about 4 p.m. and found three bodies before obtaining a search warrant to re-enter and find the fourth body.

Police said McCroskey stole Niederbrock's car but wrecked it sometime Friday before 7 a.m. The car was towed.

McCroskey was seen about 7 that morning at Sheetz on South Main Street in Farmville after he was dropped off there, Stimpson said.

He told a clerk at Sheetz that he was waiting on a ride to the airport and he was seen both inside and outside the store, officials said. It was not immediately clear how long he was there or how he left, but he arrived at the airport by cab, police said.

It is unclear what McCroskey was doing between the time he was seen at the airport Friday and when airport police officer Keith Baty and Cpl. Richard Miles found him in the baggage-claim area, slumped on a bench asleep, apparently waiting for his flight.

McCroskey had a plane ticket to fly to California today and was seen at the airport Friday about 1 p.m. He tried to get an earlier flight but he did not have enough money to cover the $150 change fee.

The officers said McCroskey, tired and groggy, identified himself truthfully to the officers. The officers told the suspect he was wanted for questioning in Farmville and "he just kind of nodded his head," Miles said.

The officers kept him handcuffed in their office and brought him a sandwich and a soft drink, they said. The suspect "was sitting there real calmly, almost nonchalant," said Troy Bell, an airport spokesman.

"I don't know what I would have expected but this wasn't it—just too calm," Bell said.

Farmville police picked up the suspect at the airport about 2 p.m. He is charged with murder, robbery and grand larceny.

Authorities said he likely will appear in Prince Edward County General District Court in person or by video teleconference on Monday.
- end of initial entry -
James P. writes:
What I don't get in the "pastor's murder" story is why the girl's mother, Debra Kelley, allowed this unsavory freak to come and stay at her house. What was she, the mother, thinking? This is some guy from the other side of the country who her daughter met on the internet, and that should be problematic enough even if he's not a satanic rapper. I make sure I know people very well indeed before I let them into my house, and that will still be true (and perhaps even especially true) when my son is a teenager and wants to have friends over.

I have to say if my son ever becomes a satanist, or a rapper, or a satanic rapper, I will feel I have failed as a parent. How did the daughter of a pastor get caught up in that nonsense?
LA replies:
If, as appears to be the case, the four murdered people include the pastor, his ex-wife, and their daughter, it may be difficult finding out what the parents were thinking.
September 21
Terry Morris writes:
The MySpace page that Brandon thought was Emma's is actually Melanie's. Melanie Wells is "Ms. Free Abortions."

Have you looked at these things, by the way? Look at the url from Melanie's page:

http://www.myspace.com/stabwound_orgasm (bolded text mine)

The other two pages are no longer up (Emma's and the alleged) killer's). Incidentally Emma and Melanie were apparently best friends. Yet there is no indication on Melanie's MySpace page that she had any kind of relationship with McCroskey, good, bad or indifferent. Indeed, I suspect that if such were the case her page would now be inaccessible too. What does this mean? Surely she knew Melanie and McCroskey were developing an at least friendly relationship on MySpace. I don't know that much about MySpace, but it seems that MySpace users regularly add new friends to their pages. Why didn't Melanie add McCroskey to her page? Well, we could speculate on and on and on about that, couldn't we.

Here are a couple of Melanie's poems posted at her page (and I have to ask, as another commenter asked concerning Emma: What were her parents thinking?!; were they completely oblivious to what she was writing and posting at MySpace?):

August 25, 2009—Tuesday

Incomplete s**t I've been writing
Current mood:alright
I Love You, Always, Forever.
Remember when we f****d you said you'd always be mine
Now I've come to realize you were full of nothin but lies
Sometimes I wanna slit your f*****g throat
Shove my dirty tampon in your mouth and watch you f*****g choke
I'll put you back in your place
I'll put a gun to your face
I'll kill your f*****g whore
You'll be my beautiful disgrace
I'll give you a kiss
While I sever your dick
After all you could never do much with it
Go ahead, call me f*****g sick
All you ever did was put me through s**t
As this blade goes deeper in it's place
I'll tell you, "I love you, you were my biggest mistake."

Here's a second one:

December 15, 2007—Saturday

A little something I wrote, not my best.
Current mood: bitchy
Category: Writing and Poetry

You're screaming and bleeding lying on the floor
I can't help it, I'm aching for more gore
Slowly I make an incision in your main artery
I feel the blood rush, gush all over my body
It's going deeper and deeper, your life is slowly fading
Your eyes roll back and your body starts shaking
I hope it f*****g burns, this isn't close what you deserve
You cheat on me with her, you have some f*****g nerve
I can feel your life leave, and a smile on my face
You gave me nothing but pain, shame and disgrace
Theres nothing you can do
Theres nothing you can say
Except watch me laugh as I slowly take your life away
I take a razor and slide it down your throat
Watching attentively as you start to cough and choke
The more you move, the more you bleed, the more I laugh, the more you scream
What I'm feeling is amazing, my heart is f*****g racing
Your body's now lifeless, you will always be mine
You'll be in my heart forever, until the end of time
John B. writes:
I was struck by Terry Morris's mention that Melanie Wells dubbed her MySpace page "stabwound orgasm." There, from a young white female murder victim, is that sex-death combo we've seen before.
LA replies:
I know whereof you speak without clicking on the link: Amy the 19 year old soon-to-be-dead English model with the glowing death's-head bra.
Posted by Lawrence Auster at September 20, 2009 07:58 PM | Send