A Tale of Two Alphas
He: wealthy,
Alpha-type, star of TV reality show.
She: big-breasted, age 28, swimsuit model.
All that's needed for Roissy heaven, right?
Well, actually not, because, according to Roissy's own very explicit, very graphic estimation of women's sexual value, once they're past the age of 23 or so, he's ready to throw them in the garbage.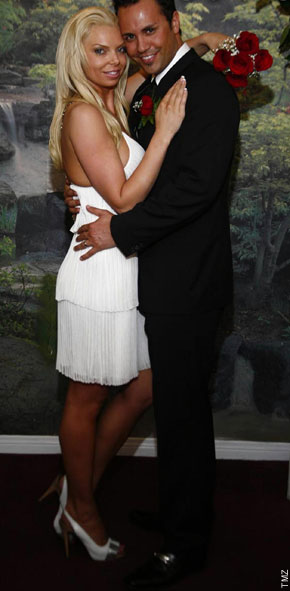 GRIM FIND: Jasmine Fiore's fingerless,
toothless body was found in an LA trash bin,
and authorities are pursuing her ex,
reality-TV star Ryan Jenkins.
Here's the
story
, from today's
New York Post
(there is a prettier shot of Jasmine Fiore below) :
IMPLANTS ID'D SLAY VICTIM
By LUKAS I. ALPERT
NEW YORK POST
August 22, 2009

Authorities were able to identify a slain swimsuit model's body through her breast implants, after her former reality-star ex-hubby allegedly chopped off her fingers and knocked out her teeth to slow down investigators, it was reported yesterday.

Cops used the serial numbers off the implants to identify her, TMZ reported. All breast implants are numbered and can be tracked through manufacturers.

Once cops were able to identify Jasmine Fiore's body after finding it stuffed in a trash bin in a Los Angeles suburb, they immediately focused on her wealthy ex-husband, Ryan Jenkins, who had reported her missing and then disappeared.

US marshals have offered a $25,000 reward for information that helps them track down Jenkins. The 32-year-old former reality-show contestant is believed to have fled to his native Canada, and police there were scouring the border between Washington state and British Columbia with dogs and helicopters yesterday.

"We're not 100 percent sure he's in Canada, but we're treating it as if he is," said Sgt. Duncan Pound of the Royal Canadian Mounted Police. "We're tracking down every lead."

Jenkins has a federal warrant out for his arrest in California for unlawful flight.

Jenkins and Fiore, 28, were briefly married in a quickie Las Vegas wedding this year—months after he appeared on the low-rent VH1 reality program "Megan Wants a Millionaire," about a woman seeking a wealthy bachelor.

Fiore's family said the two often fought, and they split recently.

Because of his significant financial means, prosecutors have asked for $10 million bail when he's caught.

lukas.alpert@nypost.com

[end of article]
And here's a weird, synchronistic connection to the world of Alphas and Game. Just minutes after I read this story about the murder of Jasmine Fiore in the print version of today's
Post
, Todd White
told me
about a person named "Mystery," a famous "Gamer," who hosts a reality TV show called "The Pick-Up Artist"on VH1. Ryan Jenkins, wanted in the murder of Jasmine Fiore, was the star of
another
reality show on VH1.
- end of initial entry -
August 23
Pentheus writes:
No, this is not "Roissy heaven." Roissy would most likely say that the murdered woman probably was attracted to and stayed with this creep not merely despite but BECAUSE OF his dangerousness, as the moth is drawn to the flame.

He would not say this is a good thing—i.e., a "heaven"—but rather is the "unpretty" reality that almost NO ONE, whether "liberal" or "conservative," wants to hear or acknowledge.

See these Roissy threads about the pop singer Rihanna who was beaten by her boyfriend, singer Chris Brown, and then maintained her relationship with him and refused to press charges.

(WARNING: Roissy uses very obscene language and verbal imagery intermixed with his non-obscene analysis.)

Hitting A Woman Will Turn Her On

Shocker! Beautiful Woman Chooses Man Who Beats Her Silly

Lies About Women Who Love Abusers
LA replies:
While I am listing the titles Pentheus sent I am not going to post the links, as the Roissy articles are extremely pornographic, indeed laughably so. This guy's real vocation is not as a teacher of men but as an author of intensely crude, one-dimensional porn (Fanny Hill it's not).

I've read the first post and its point can be told simply: hitting a woman turns her on sexually more than anything and makes her love a man more than before.

So how does this disprove my point about "Roissy heaven"? What is Roissy all about? Telling men what they need to do in order to attract, win, and keep a woman. And Roissy says that the single greatest turn-on for a woman, the thing leading to the greatest sex ever, is for a man to hit her. So if Ryan Jenkins, prior to killing Jasmine Fiore, was beating her up, that is Roissy heaven.

Far from disproving my point, Pentheus has proved it and expanded on it.

Far from the "unpretty reality" of females' attraction to dangerous males being the opposite of "Roissy heaven," that unpretty reality is Roissy heaven. Remember that Roissy's object is a world shorn of the "pretty lies" that he hates—a world reduced to "unpretty reality." So, the unprettier sex relations become, the closer they get to Roissy heaven.
MG writes:
I'm disappointed in your posting. All we know, at least what I know—and you supplied no evidence in addition to the article, that a woman, many a man would find beautiful, married a good looking and rich man who (allegedly) proceeded to kill and mutilate her. And we don't even know if she was a killed before her body was mutilated in horrible way.

We know nothing about this woman outside of this. She might have been a dumb low life and gold-digger or she could have been a dotting mother to a bunch of nice kids. She might have been a heavy druggie or she might have been a health enthusiast who could have spent the rest of her life helping people to be healthier.

In no case she has deserved to be murdered and mutilated.

None of it has much to do with the Game and Roissyism . Regardless what one thinks about the Game.
LA replies:
What is the connection between the Roissyite Game and the murder of Jasmine Fiore?

It is that the same view of humanity that makes such a murder possible, is explicitly formulated and taught by Roissy. It is the radically reductionist view that women, are, quite literally, objects, utilities, consisting of nothing but a body for the satisfaction of a man's desires, and of emotional buttons for a man to press so that he can have his way with that body. And what are men in this view? Not moral beings, but satisfaction maximizers. So human beings are either objects, or selfish agents manipulating these objects. Roissy spells out in extreme form the reductionist, materialist view of humanity which in one form or another is very widespread in today's society and has led to an unprecedented expansion of anti-social, exploitative, and criminal behavior.

I have commented on the extraordinary number of murders of successful, apparently happily married middle class men and women by their spouses for no reason other than convenience, as covered in detail on TV shows like Snapped and Forensic Files. These murderers do not kill out of passion or some pressing, felt necessity. They kill because their spouse has ceased to be valuable to them, and they have calculated that they can profit financially or emotionally from murdering their spouse.

Roissy is not advocating murder; but he is the philosopher of a world view that enables such murders: the total objectification of the human being. The Roissyites will say that he is only objectifying women, not men. But there's no way you can objectify half the human race without having the same effect on the other half.

From the Roissyite perspective, why should a person not commit murder? A woman's only value is in her sexual attractiveness, in the degree to which she arouses and satisfies a man's desires. The moment she drops below a certain level of the Roissyesque index, she becomes worthless. Roissy speaks of women over 38—or any women who have a low score on his test of desirability—with disgust and contempt. He speaks of them as though they were garbage.

Further, people who read Roissy, even if only to "study" his angle on women, not to practice it, are inevitably absorbing his assumptions and attitudes and being corrupted by them.
Stephen T. writes:
Now we learn that Jasmine Fiore was romantically involved with a drug dealer in state prison and was with him in between liaisons with her ex-husband/soon-to-be-killer, who also had a record for violence—one domestic violence charge in Nevada plus a previous assault conviction in Canada. (Note: Though it seems unlikely that, by random chance, one woman's romantic interests would so often turn out to be men with experience in the criminal justice system, beautiful women definitely are NOT attracted to bad boys—that's just inadequate men's excuse for not having dates!)

Still, I'm not sure much can be concluded from this case other than a not-too-bright guy with a huge ego got way over his head with a classic, beautiful-but-unfaithful sex-bomb type, then snapped and killed her in a jealous rage. If that sounds familiar it's probably one of the most timeless murder scenarios recounted everywhere from Greek mythology to the Old Testament to Mickey Spillane novels. I doubt that experienced homicide detectives down in OC had to strain to guess the who, where and why of this one.
LA replies:
"… probably one of the most timeless murder scenarios…"

Please see VFR's discussion, "Why has the female sex lost its mind?"
LA writes:
I went to read the article Stephen sent, but at the top of the page was a link to this:

Jasmine Fiore's Husband Found Hanged
By Steven Mikulan in crime
Sunday, Aug. 23 2009 @ 8:14PM

In what seems to be the final macabre twist to the bizarre and brutal murder case of Los Angeles model Jasmine Fiore, her fugitive husband, Ryan Jenkins, has been found hanged. Jenkins' body was discovered in a Hope, British Columbia motel room, according to Royal Canadian Mounted Police. The L.A. Times reports that U.S. authorities had traced the former realty TV show contestant's escape into Canada via a speedboat.

The Vancouver Sun quotes an RCMP source as saying that staff at the Thunderbird Motel entered the room today to check on Jenkins and found his body. Police confirmed Jenkins' identity about 5 p.m. today.
LA writes:
Here is the article Stephen sent from the LA Weekly:

Jasmine Fiore Dated California Convict—How Much Weirder Can This Tragedy Get [TRAGEDY? Is there any limit to the brutality of a crime the media will relativize by calling it a "tragedy"? He strangles his ex-wife to death, and after she's dead knocks her teeth out and cuts off her fingers, and this is a "tragedy."]

By Jill Stewart in Hollywood, crime

Friday, Aug. 21 2009 @ 4:28PM

KFI's Eric Leonard has the strange scoop that the brutal killing and grotesque disfigurement of Jasmine Fiore now involves a new twist: she was romantically involved with a California prisoner and just a few days before her killing picked him up and drove him home.

The unidentified prisoner, apparently just released from behind bars, "'was in prison on felony evading and drug charges, according to state records, and volunteered to speak to detectives as soon as Fiore's death became public," Leonard reports.

It does not look like this unidentified boyfriend is a suspect in the case, in which police have acknowledged Fiore's teeth were knocked out and her fingers cut off to prevent identification of her body.

Meanwhile, TMZ reported today that police believe Fiore was strangled last Friday, one week ago, and "surveillance video shows [ex-boyfriend Ryan] Jenkins leaving a hotel with a suitcase that may have been the receptacle for Fiore's body." [The New York Post said that Jenkins and Fiore had been married and divorced this year; maybe that was incorrect.]

Buena Park detectives searched the L'Auberge Del Mar Hotel near San Diego, but TMZ reports the cops found no blood or other evidence of her mutilation.

Meanwhile, the apparently wealthy fugitive sought for her murder, Ryan Jenkins, has left a trail of high-end vehicles behind him. Authorities found his abandoned boat in waters near the Canadian border, and are still seeking his white Mercedes Benz.

It seems this young woman in search of fame also left a trail of boyfriends, although police believe Jenkins alone is responsible for her gruesome murder. In addition to her ex-con boyfriend in San Diego, unearthed today by KFI, Fiore had sent several text messages to Robert Hasman, a former boyfriend in Las Vegas, asking to see him shortly before she vanished.

With all the media buzz over this case, it does make you pause to wonder if she was slain by a man who tried to own her. With a boyfriend just out of prison, and a former boyfriend still a friend in Las Vegas, was Fiore's other boyfriend Ryan Jenkins simply not going to allow her to move on in life?
Here are other shots of Jasmine Fiore (taken in 2006) and Ryan Jenkins:
Posted by Lawrence Auster at August 22, 2009 07:59 PM | Send