LA, March 18, 2013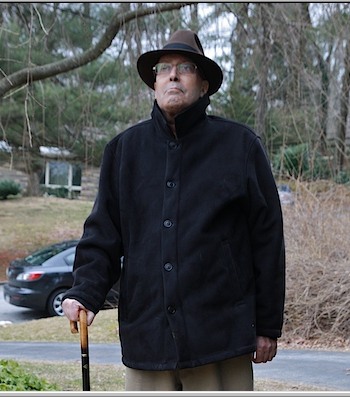 Here is a photo of me taken today by Dean Ericson when he was visiting from New York. It was shot a few minutes after I fell down to the ground, mainly because of the exceptional bodily weakness I am experiencing today. The extreme weakness may be a side effect of the radiation treatment, as told in my most recent response to a reader in
"Letters from Readers."
— end of initial entry —



March 19
James N. writes:
Title: Eyes on the Prize
March 20
Casey T. writes:
The most recent photo of you shattered my heart. And, because of the incredibly lively mind you exhibit through this medium, it stunned me, too. As utterly bizarre as this may sound, I swear that you are beautiful.

God bless you, sir.
LA replies:
Thank you very much.

And, yes, I agree with you that the concept of Lawrence Auster being beautiful certainly is bizarre. :-)

But, seriously, why did it stun you?
Casey T. replies:
It stunned me because you look so frail, like someone of whom I would want to take care, and I am moved to tears with pity. And yet, simultaneously, I know you are very strong.
March 21
BE writes:
Proof yet again that nearly every man looks better in a proper hat.

In addition to its mere functionality, your fedora frames your face and balances the impact of your heavy coat.

Beyond that, this is an upbeat, hopeful picture, despite your spill moments before it was taken. You come out as steadfast and resolute. Thank you for sharing it.

You and those who are caring for you remain in my thoughts and prayers.

My best wishes always,
Bob L. writes:
That is a photograph of a man who is very much alive—far more alive than many ever will be.

God bless you.
Posted by Lawrence Auster at March 18, 2013 10:07 PM | Send