Michelle as Darth Vader
Check out
Kidist Paulos Asrat's
observations
about Michelle Obama's outfit at the inauguration: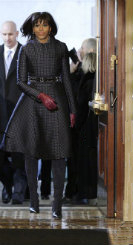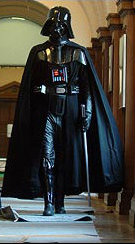 Michelle entering the U.S. Capitol
prior to the inauguration to announce,
"Earthlings, bow down to your new rulers."
But according to a different translation she said,
"White people, bow down to your new rulers."

- end of initial entry -

January 30
Daniel S. writes:
It is interesting that Michelle's outfit has caused her to be compared to Darth Vader. I had a similar reaction when first viewing the picture. It was as if she were one of those futuristic, jackbooted villains out of Total Recall or some such classic science fiction flick. And finally it dawned on me, she is dressed like a Romulan from the Star Trek series.
Robert H. writes:
I was amused by your Michelle Obama/Darth Vader post.

It's obvious to me (and perhaps more importantly, to a close friend who worked on a big network morning show) that the inspiration or style of Michelle Obama's inauguration hairdo was the Occupy Wall Street's favorite V anarchist from V for Vendetta.

While her choice of clothing merely reflects her embrace of today's current trend of anti-feminine design ethos, created mostly by homosexual male fashion designers, a woman's hairstyle is a deeply personal matter between her and her stylist.

Note the deep similarities between the hairstyles showcased in this page and this.

It is impossible that these similarities were not considered and consciously embraced by the First Lady and her stylist. The ghastly 'do is likely a way for the Obamas to have some fun and enjoy a private joke at the expense of mainstream America, who typically loathed the disgusting Occupiers that the Obamas probably secretly endorsed and supported.

Thanks for all you do. You are in my prayers.

A reader writes:
That photo of our Dark Overlord, Michelle, brings immediately to mind Darth Vader's theme, "The Imperial March."
Posted by Lawrence Auster at January 29, 2013 06:03 PM | Send