Trying to be fair to Jill Kelley
The ever-exfoliating
Petraeus affair threatens to swallow this website, and I am going to try (though I can't promise) to post less on it from now on. But before my semi-fast begins, I'd like to clear up something.
I, along with others, have emphasized the sensationalist aspect of Jill Kelley. I even suggested that, with her ready-for-parody title of "Social Liaison" at MacDill Air Force base, she is a likely candidate for adultery. But in fact there is no indication I am aware of that she has done anything seriously wrong, including adultery. Yes, she has sought to advance herself in a rather vulgar way, for example getting named an "honorary consul" for South Korea, then putting that title on her car's licence plate, then using the title to demand special police protection from reporters because her home (as she incredibly said to the Tampa police in a phone call) was "diplomatic property." And she unquestionably uses her ample and obvious sexual allure to enhance herself socially and help advance her projects, such as her and her husband's foundation to help terminally ill cancer patients. But there is nothing scandalous in that.
As for her e-mail correspondence with Gen. John Allen, law enforcement sources have characterized the e-mails as "flirtatious" but "not romantic." I suppose, based on Kelley's photographs and everything we know about her, that she is socially flirtatious with every high level man with whom she comes into contact. That's just her personality. But at the same time, from the photographs of her with her husband, they look like a solid couple who "fit" together and enjoy each other: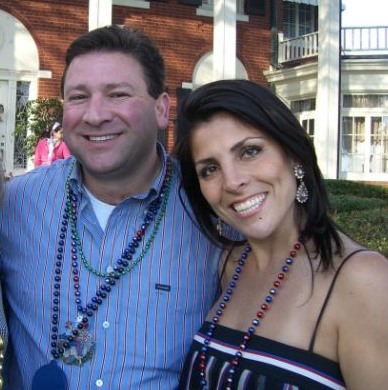 The photos of the Kelleys are very different from the photos of David and Holly Petraeus and of Scott and Paula Broadwell, in which both couples look as though the husband and wife inhabit different worlds: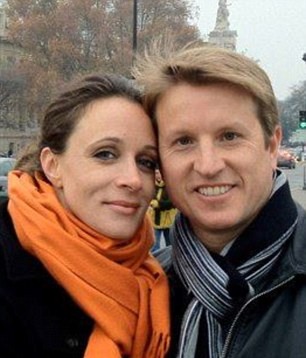 "Mr. Mom" with his dorky, out-of-it smile, and his
self-seeking wife with her knowing look that speaks
of her next achievement, or her next conquest.
What I am trying to get at is that Jill Kelley's overt sexiness does not mean that she has been unfaithful to her husband. People use the talents they have. And Jill Kelley's talent is, well, undeniable. Here she is walking from her house to her car yesterday (from the
NY Daily News
):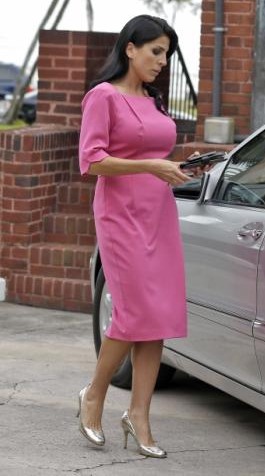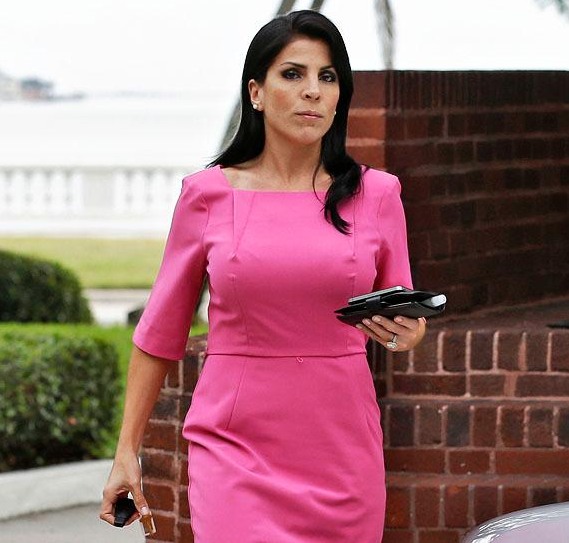 I must confess that there's something about this woman that makes my brain stop functioning. I imagine that she has the same effect on other men. We know she had that effect on the unnamed FBI agent who sent her a shirtless photo of himself. But, again, that doesn't mean that she is an adulteress.
At the same time, had it not been for Kelley's apparent flirtatiousness with Army officers, she would not have triggered Paula Broadwell's jealousy which led to the e-mails which led to the uncovering of the Broadwell-Petraeus affair. A commenter said today, speaking of Broadwell, "What a mess the indiscretions of one woman can cause." Yes, but the female indiscretions here were not just Broadwell's. The story remains one of female empowerment and the disorder it causes in human society.
On a different matter, there is something to clear up about the oft-seen photograph of the Kelleys and the Petraeuses and Jill Kelley's sister Natalie: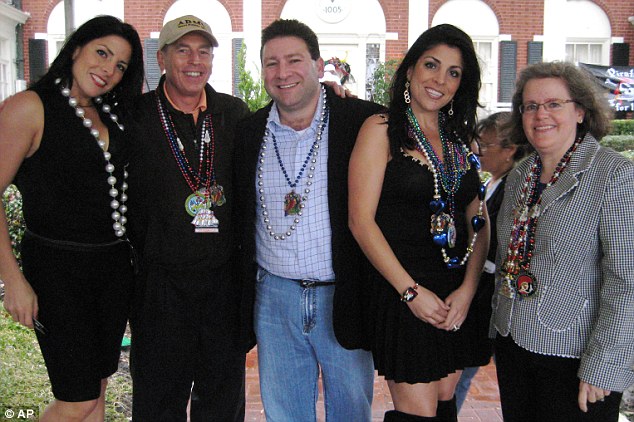 Earlier reports had said that this photograph was taken in 2004. That made sense, because Jill Kelly looks much younger here than in her current photos. But in fact the photo must have been taken between 2008 and 2010. Petraeus was the commander of U.S. Central Command (which is responsible for operations in the Middle East) from October 31, 2008 until June 30, 2010. The headquarters of CentCom is at MacDill Air Force Base in Tampa, Florida. Before then, he was the commander of the 101st Airborne Division in Iraq, then returned with the division to its headquarters at Fort Campbell, Kentucky. Then, from January 2007 until October 2008, he was in charge of ground operations in Iraq, where he led the surge. The only time he resided in Tampa was when he was CentCom commander. So the photo must have been taken in 2008-2010.
And now I see that the New York Daily News says the photo is from 2010, and that it was taken at a party at the Kelleys' house. So the silly outfits they are wearing were evidently the Kelleys' idea.
I repeat, Jill looks young and girlish in this photo, far younger than in her recent shots where she has the hardened look of a mafia matron. (Yes, yes, I know she's Lebanese, but to me she looks Italian.) It's hard to see how she could have changed that much in two years.
Also, Holly Petraeus's `hair in this photo is light brown—did it turn deep gray in just two years? Or did she stop coloring it perhaps? In any case, she looks in this photograph a good deal more than two years younger than today, which leaves me once again with the feeling that it was taken in 2004 rather than 2010, though the media and the facts say otherwise.
The same Daily News article goes into the extravant life style and massive debts of the Kelleys. Their $1.8 million home is in foreclosure.
One more less-than-earthshaking puzzle I have. The Daily Mail informs us that "Kelley's husband, Dr. Scott Kelley, is a highly sought-after surgeon who specializes in a rare type of minimally invasive surgery to cure cancer of the esophagus." It's hard for me to see Scott Kelley as a doctor, let alone as a highly specialized cancer surgeon. He looks like an overweight good old boy.
Jeanette V. writes:
Regarding your photo of Scott and Paula Broadwell, once again we see a forced smile. Also the body language in that little photo is very clear. Paula is the dominate alpha and Scott looks as if he doesn't want to be there.

As you said, the Kelleys look like they like each other in the photo you posted. Even in this photo their smiles are genuine:

Also, here is a video of Dr. Kelley explaining a new surgical procedure he performs.
Giuliano D. writes:
The voice of Jill Kelley on her call to the Tampa police in which she called herself an honorary consul.
LA replies:
Jill Kelley's allure for me is tragically lessened by this recording. She has a terrible, high-pitched, scratchy voice.

I'm reminded of Bernard Shaw's one-act play about Shakespeare, The Dark Lady of the Sonnets, in which Shakespeare says: "There are two sorts of women: those with excellent voices, sweet and low, and cackling hens that cannot make me dream."
Terry Morris writes:
She is still whoring herself out, whether she committed actual, physical adultry or not. And that is purely wrong. Moreover, her husband should never have allowed it under any circumstances. You know how it goes—first you think it; then you say it; then you act on it.

Kelley's husband should have nipped it in the bud a long time ago. But he didn't, and now they're paying the price.
November 14, 10:30 p.m.
Jillian J. writes:
You said, "So the silly outfits they are wearing were evidently the Kelleys' idea."

This is not important but I thought you might be interested.

Every January in Tampa there is an event that takes place along the bay. It's called Gasparilla Day. Its an enactment of a fictitious (I think) battle between pirates and the city of Tampa. A pirate ship pulls up in Tampa Bay and men dressed as pirates throw "treasure" to the crowd on land. It looks pretty much like Mardi Gras necklaces. That is what Petraeus and the group in the picture are wearing around their necks. Also, if you look at the background you can see a black and white pirate flag. It's an all day affair, vendors sell food, etc. along the sidewalk, and the day before they hold a race——the Gasparilla 15k.
Lois W. writes:
You wrote: "So the silly outfits they are wearing were evidently the Kelley's idea."

No, the beads are traditional Gasparilla party favors. The photo was taken on Gasparilla Pirate Festival, a festival in Tampa similar to Mardi Gras, wherein "pirates" invade Tampa. It's mainly a good excuse for a rowdy party in the streets, and also a great tourism promotion for Tampa to show off the sunny weather in January. The day begins with a flotilla of boats manned by "pirates," who invade the city and capture the mayor, who is usually a good sport about it and surrenders the city. Then comes the parade through the streets, with the pirates typically throwing their "treasure" (mostly cheap strings of beads) to the cheering crowds, and that is why the Kelleys and Petraeuses are all wearing cheap beads.

Interestingly, since it is after all January, both men and Mrs. Petreaus are wearing lightweight jackets. Only the two Kelley sisters are bare-armed, braving the chill of the air the better to show off their womanly charms.

I think the Kelleys have a bayfront house, which means they could watch the flotilla of ships pass their house. The news reports all say they had erected a white tent on their front lawn for their party. The general must have been the guest of honor, as he arrived with something like a 28 car escort.

It's quite possible there was no sexual affair between the general and Mrs. Kelley [LA replies: no one has said there was], but that he was valued as a high-status guest she could show off at her parties.
Henry S. writes:
You wrote: "I must confess that there's something about this woman that makes my brain stop functioning."
Be assured, you are not alone.
I spent some years of my youth in Israel. That country has many such raven-haired beauties amongst the Oriental Jews.
Paul K. writes:
I have to say that apart from having large, shelf-like breasts (and very white teeth), Jill Kelley strikes me as utterly without feminine sex appeal, alternating between Stepford-Wife smiles and dagger-emitting glares. I'm just not, not getting it. :)
Posted by Lawrence Auster at November 14, 2012 10:35 AM | Send