Is Obama ill?
At the
first debate, I was struck by how sallow and aged Obama looked. And now, in a photograph in today's
New York Times
, in which he is visiting the local Obama campaign office in Williamsburg, Virginia (where he's doing his debate rehearsals at a luxury resort), he looks positively unhealthy. His eyes are sunken, his color is not good, the lines in his face stand out, he looks strained. At least that's the way the photo in the print version of the
Times
strikes me. In the electronic version of the photo (see uncropped version
here
), which seems to have far less detail than the print version, he looks ok: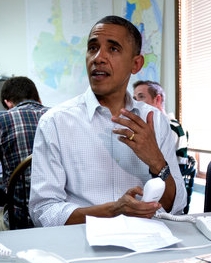 So my point is lost because of the differences between the print and the electronic versions of the photograph. All I can say is, when I saw the print photo, I thought, "That man is ill."
- end of initial entry -

JDS writes:
It's probably an allergic reaction to the work required to do actual preparation for a debate.
Alan M. writes:
My wife thinks he is just smoking heavily again.
N. writes:
If I remember correctly, Obama has never made any of his medical records available to anyone. That may or may not be of significance. However, both GHW Bush and GW Bush did so, as did Reagan.
Posted by Lawrence Auster at October 15, 2012 07:07 PM | Send