College running back killed by muggers
This largely
fact-free and completely photo-free
story
by the AP about the killing of a college football player during a street robbery is repeated at numerous sites:
WASHINGTON, Pa. (AP)—Authorities say a football player at a small western Pennsylvania college has been killed during a street robbery.

Timothy McNerney was a running back for Washington & Jefferson College, about 20 miles from Pittsburgh.

Police say the 21-year-old senior died Thursday morning of a head injury after he and a friend were mugged coming home from an off-campus bar. Police have no suspects.

McNerney's friend told police he didn't recognize the assailants, who tried to steal a cellphone.

After a scuffle, the injured friend ran back to campus and alerted authorities. McNerney was later found unresponsive near the robbery site. He was pronounced dead at a hospital.

The campus held a vigil Thursday night for McNerney, who was from Butler. College President Tori Haring-Smith says the community is heartbroken.
Got that? There was a witness to the attack, McNerney's friend, but no description of the perpetrators is supplied. The only statement on that we hear from the witness is that "he didn't recognize the assailants." Since when do police expect that victims of a street robbery will
recognize
the assailants? What is needed and expected from victims and witnesses is a
physical description
of the assailants, and that is pointedly missing from the article.
I had to search a bit, and finally found an article, not by the AP, but by a local paper in western Pennsylvania, the Observer-Reporter, which provided Timothy McNerney's photograph,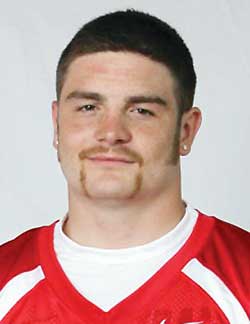 plus many more facts about the crime, including a police spokesman's statement that "It was totally random." So now we know (from the photograph) that the victim was white and (from the description of the crime as "totally random") that the assailants were black (or perhaps nonwhite Hispanic). Remember: when police describe an attack as "random," that has a very precise meaning. It means that blacks saw a white person they were unacquainted with, and, because the white person was white, they proceeded to injure or kill him. In probably 95 percent of cases, that is what police are actually talking about when they describe a crime as "a random attack."
Of course we also know from the nature of the crime itself that the assailants were black. Robbing a pedestrian of his cell phone and then hitting him in the head, killing him, is something done virtually exclusively by blacks.
Here is the piece from the Observer-Reporter:
Washington police Thursday night were still piecing together the details of how a Washington & Jefferson College football player became a homicide victim after he and a teammate were robbed while walking home from drinking in a local tavern.

Police Lt. Dan Stanek said investigators had no suspects in the death of Timothy McNerney, 21, a senior from Butler, who was found unresponsive shortly before 4 a.m., about an hour after campus security notified Stanek's department of the crime.

"It was totally random," Stanek said at a news conference Thursday night in the police station.

Washington County Corner Tim Warco earlier ruled McNerney's death a homicide, stating the W&J Presidents' running back died of blunt force trauma to his head. McNerney was pronounced dead at 4:42 a.m. at Washington Hospital after being found unresponsive in the parking lot of an auto repair garage at South College and East Maiden streets.

Stanek said police do not know whether McNerney was struck with a fist in the back of his head or if he suffered the head injury when he fell to the ground after being pushed.

McNerney was walking back to campus with Zach DeCicco from Main Street Brew House on South Main Street when they were approached near the rear of Lombardi's Auto Service by as many as six males wanting to steal a cellphone, Stanek said.

"No types of weapons as far as we know were flashed," he said. DeCicco suffered a possible broken nose and some other injuries, Stanek said.

DeCicco, 22, a senior from Jefferson Hills, managed to escape to his dormitory. DeCicco, a defensive back on the team, did not call Washington County 911, but chose to wait and report the robbery to campus security.

"He's shook up. They were both attacked. When he got a chance to flee, he fled," Stanek said.

DeCicco and his friends then went looking for McNerney, checking the lot in front of Lombardi's at 99 E. Maiden St. without finding any signs of him, police said.

McNerney was later located in that parking lot by friends after it was checked a second time, Stanek said. They immediately called 911 upon finding McNerney, he said.

"We don't know if he ran off and was hiding and came back," he said.

McNerney's wallet was missing and police were working with Verizon in an attempt to locate his cellphone, police said.

Police said there is video surveillance in the area that had yet to be checked to see if it offered any clues to the crime.

The homicide left the small college with nearly 1,600 students in a state of shock and disbelief throughout the day.

In front of the Commons dining hall on campus, students had gathered for an impromptu vigil during the day. Young people shared condolences on a large remembrance banner.

Sophomore Makensie Holets, 20, wrote, "You will be missed."

"It came as a shock," said freshman Marissa Dapra, 18. "My support and prayers go out to his family and the community here."

"I think during this time, it's always good to know that people on campus supported him, even if we didn't know him," Holets said.

Angela Giglio, 19, offered a similar sentiment.

"I didn't know him, but I know a lot of people on campus who loved him," Giglio said.

Later Thursday at a campus candlelight vigil, members of the school's volleyball team said at least three students had been assault in the past several years in the area where the football players were attacked.

Police said they had no evidence that college students were being targeted in crimes off campus.

Stanek said there have been several recent "street robberies," but they were in different locations around the city.

The college issued a statement that said, "The campus community is heartbroken, and our deepest prayers are with Tim's family and friends. The college is supporting the police as they continue their investigation. The safety of our students, both on and off campus, remains our highest priority,"

Online, class and teammates of McNerney took to social media to remember their friend. The hashtag "#RIP5" was used on Twitter as an online testimonial. Many of the people sharing their memories were current and former teammates of McNerney.

Brendan Lucchino wrote, "#RIP … Man I loved u like a brother … I'm praying for ur family bro … It was an honor to be able to call u my teammate." Lucchino, @LuchTHeeTRuth443, is a senior linebacker and No. 44 for the Presidents.

Curtis Hughes, @curtis_hughes2, freshman linebacker from Freeport, said, "#RIP5 it was an honor to play with you and an honor to be able to call you my brother."

Meanwhile, Karen Oosterhous, the director of communications for W&J, said that the student health center hosted professional counselors all day Thursday so that students could stop in for support.

Staff writers Kathie O. Warco, Aaron Kendeall and Karen Mansfield contributed to this report.
- end of initial entry -

David B. writes:
Since there were "as many as six males wanting to steal a cellphone," the victim was probably kicked in the head until he was dead. If the witness "didn't recognize" the killers, he obviously saw what they looked like.
Jeanette V. writes:
Found a video from the local police, the victim was surrounded by a group of Black males and trauma to the back of his head is what caused his death. Some of the articles say no weapon was used, but we all have seen how groups of Blacks knock someone down and proceed to viciously kick them in the head.
James P. writes:
A young, fit football player knocked out and killed. What chance do us older regular folks have? Anyone who says that you should not shoot an unarmed assailant needs to see this story — and it is far from the only story of this kind. People are killed every year by "just one punch."
Posted by Lawrence Auster at October 08, 2012 12:02 PM | Send