The final solution to one rapper's problem
A reader
sends this
story
from
Huffington Post
:
Ervin McKinness, Aspiring Rapper, Tweets 'YOLO' [You only live once] About Driving Drunk And Dies Minutes Later

Ervin McKinness, a 21-year-old aspiring rapper, tweeted about driving drunk at 120 miles per hour minutes before dying in a fiery one-car crash that killed the rapper and four others. [cont.]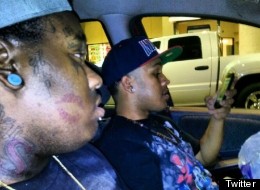 Ervin McKinness, left
Comments

September 15
Ed H. writes:
Give Ervin a break, he had a calculus test tomorrow and was nervous. He was a troubled youth (TY) but he had turned his life around (HTLA) and was returning to school (RTS) so please, stop the hate (STH).

Note: for administrative efficiency please use appropriate acronyms when referring to future Ervins.
LA replies:
You didn't mention that his nervousness about the calculus test was heightened by Stereotype Anxiety (SA).
Daniel W. writes:
I keep reading the title of your entry about Ervin McKinness as "The Final Solution to One's Rapper Problem." Works pretty well, I think.
LA replies:
I knew the title, as a paraphrase of "The Final Solution to the X Problem," was not perfect, but it was the best I could do.
Posted by Lawrence Auster at September 14, 2012 11:56 PM | Send