New achievement for feminism! Woman uses knife to force a man to have sex with her.
The woman
, Luminita Perijoc, 30, after the cab driver carried her bags into her apartment, told him she wanted to get it on with him. He declined. So she
pulled out a knife
and made him perform, twice. But she still wanted more. He declined and she stabbed him six times.
The perp "is a huge fan of Angelina Jolie, and prides herself in looking like her."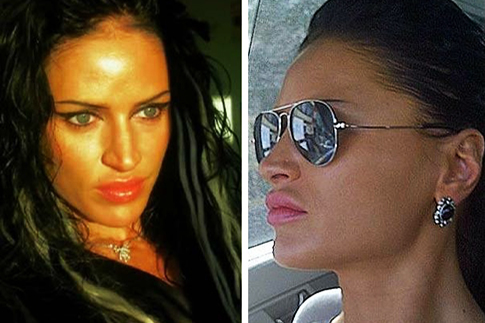 Luminita Perijoc, a woman for our times
The story, from
Elite Daily
, provides no date, and no place. We don't even know what country the crime took place in. But since the victim is identified as "a Romanian taxi driver," and the perp also appears to have a Romanian name, I will assume it happened in Romania. But for all we know they could be Romanian immigrants in New York City, London, or Toronto.
An apparent Angelina Jolie lookalike allegedly stabbed a Romanian taxi driver after he refused to satisfy her for a third time.

Nicolae Stan told police that Luminita Perijoc, 30, already forced him at to have intercourse and perform oral sex on her at knifepoint.

Stan alleges Perijoc asked him to help her bring her bags upstairs to her apartment.

When he refused, she pulled out a knife and forced him to undress.

Stan's friends have clowned him for refusing to have sex with the gorgeous star's doppelganger.

[LA notes: the next part of the article is block indented, indicating that Elite Daily has copied it from another publication. But Elite Daily helpfully declines to provide a link or tell us what publication it is.]

"It is terrible. I am now a local celebrity, every one is talking about me," said Stan.

"They don't understand why I refused her, but they do not know what it is like to have a mad woman yelling at you at knife point.

"They look at her, then look at me an laugh. But I think anyone would find it impossible to perform with a knife at their throat even if they were with Miss Romania.

"She asked me to help with her bag but when we were upstairs she got me in to her kitchen and told me she had to have sex with me.

"I think she wasn't used to anyone saying no because she flew into a rage when I declined. She took out a knife and forced me to undress and have sex with her.

"But she wasn't satisfied and wanted sex again.

"When I refused she attacked me with a knife, and forced me to have oral sex with her but she still stabbed me."

Perijoc is a huge fan of Angelina Jolie, and prides herself in looking like her.

Police say Stan was sent to the hospital with more than a half-dozen stab wounds.

Many are attributing Perijoc's medication to her erratic behavior.
- end of initial entry -

Roger G. writes:
Twice?
LA replies:
Well, the first time was intercourse, the second was oral.
Roger G. replies:
Oh.

"Many are attributing Perijoc's medication to her erratic behavior."

And I was attributing his to having come here from Krypton.
Jeanette V. writes:
I found her Facebook profile. It is in Romania and she lives in Tulcea, Romania. Here is the Google translation of what she wrote about herself:

"I have green eyes, brunette, long hair. 1.75 m, 90-65-90, athletic. I love men! I love passion. Living the moment!"

She has even posted a link to the news story about herself proudly proclaiming "Brits love me! You?"

What is disturbing is the number of fans she has.
LA replies:
So this woman boasts of the Daily Mail article reporting on her criminal depraved conduct. There's your contemporary female product of sexual liberation, the cult of self, and women's empowerment.
Posted by Lawrence Auster at August 28, 2012 05:28 PM | Send