The continuing black mayhem which our society refuses to identify as such
Notice the
New York Daily News'
description
of the gunman as "desperate for cash." Gosh, he must have been a regular Jean Valjean, trying to feed his starving nephews and nieces! In reality he was just another African-American killing machine. When he met with resistance in his attempt to hold up a livery cab, he shot the 23-year-old passenger, Nikita Grebelskiy, point-blank in the head, rendering him brain dead (a more detailed account of that shooting is in the next
entry
). And in another of his attacks, he simply opened fire on ten people standing on a porch. How is shooting indiscriminately at a crowd of people consonant with a need for cash?
Maniac shoots five, one critically, during Brooklyn spree that menaces club, house party and livery cab

Sources say a glassy-eyed gunman, desperate for cash, shot five people and pistol-whipped three more early Saturday in a spree of bloodshed and botched robberies that menaced a club, house party and a livery cab.
Updated August 19, 2012

A glassy-eyed Brooklyn gunman shot five people—leaving one brain dead—and pistol-whipped three more early Saturday in a maniacal spree of bloodshed and botched robberies, sources said.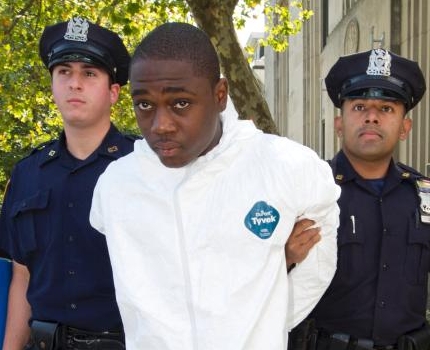 In every one of these Negro crimes we see exactly the same type, over
and over again: Physically powerful, mentally deficient, morally depraved.
The erratic attacker left a nine-block trail of terror through Flatlands [a Brooklyn neighborhood] before he was busted near the last stop of his one-man crime spree—the Nigerian nightclub 9ja Villa.

"This guy went on a tear," a witness from inside the club told the Daily News. "It was terrifying."

The 19-year-old would-be robber, identified by sources as Michael Magnan, earlier targeted a random nearby house, another neighborhood nightclub and a livery cab caught at a red light, police sources and witnesses said.

The livery cab shooting was at Ave. O and Utica Ave.

A 23-year-old cab passenger, identified by a family friend as Nikita Grebelskiy of Forest Hills, Queens, took a point-blank bullet to the head from the deranged suspect about 2:30 a.m. after the gunman fought with the driver.

Grebelskiy was left brain dead, his mother said.

The livery cabbie, who punched the attacker in the face, was distraught hours later that he didn't do more.

"I should have took that gun from him," said a dejected Eric Martine, 33, of Gateway Car service. "I should have thought faster."

Less than an hour earlier, the gunman had appeared from the darkness and opened fire on 10 people gathered on an E. 54th St. front porch. Standing across the street, the suspect fired one shot before pausing—and then blasted away without uttering a single word.

"I heard, 'Pow! Pow! Pow!' and I wondered if he's going to murder everybody," said Patrick Myrie, 41, who had just gone inside the house.

"I tried to hide, and then I was scared," he said. "I heard everyone running."

Magnan, dressed in a white Tyvek jumpsuit, appeared dazed and confused as he was taken out of the 63rd Precinct in handcuffs and ankle shackles.

"I didn't shoot nobody," he said before climbing inside a waiting ambulance.

Charges were pending early Sunday as investigators pieced together their case. Sources said Magnan lives in the neighborhood and has seven arrests on his record dating to 2010, including charges for attempted murder and possession of a firearm.

His clothes and shoes were taken by cops and placed into an evidence bag. A spent .380-caliber shell casing was found inside a shoe, police sources said. Cops also said they recovered a handgun that matched the shell—its magazine empty—near the arrest scene.
- end of initial entry -

James P. writes:
Only whites go on shooting sprees, everyone knows that!
Posted by Lawrence Auster at August 23, 2012 11:25 AM | Send