The great Noël Coward
For those
who live in the New York area, I highly recommend the
exhibit
"The World of Noël Coward," which is at the New York Public Library for the Performing Arts at Lincoln Center until August 18. (Much of the exhibit is reproduced
here
.)
Coward, nicknamed The Master, was one of the most extraordinary and multi-talented figures in 20th century culture and entertainment. Born in December 1899, he was not only a playwright and screenwriter (of plays and movies both comic and serious), a novelist, actor, director, librettist, composer, painter, singer, dancer, stage producer, cabaret performer, and TV star, but the creator of a unique personal style, almost a way of being, that was of the essence of a certain aspect of the twentieth century and was influential on other great performers such as Fred Astaire and Cary Grant. And he was friends with, it seems, everyone.
The exhibit features a vast number of photographs and, via TV monitors, many video selections from Coward's movies, plays, and interviews, adding up to perhaps two or three hours of video watching. Some of the videos can be seen here.
While the exhibit does not deal with Coward's private life, the following should be noted. Although Coward was homosexual, he kept that side of his life private, and his work expresses none of the resentful and destructive attitudes typical of today's aggressively out-of-the-closet homosexuals. To the contrary, he had a vibrant, affirmative sense of life which is expressed in all his works, including his movies about England which show such a deep love for that country. When he was pushed aside by the "Angry Young Men" of the 1950s, he said, "I'm not angry. The Angry Young Men hate their parents. I loved my parents."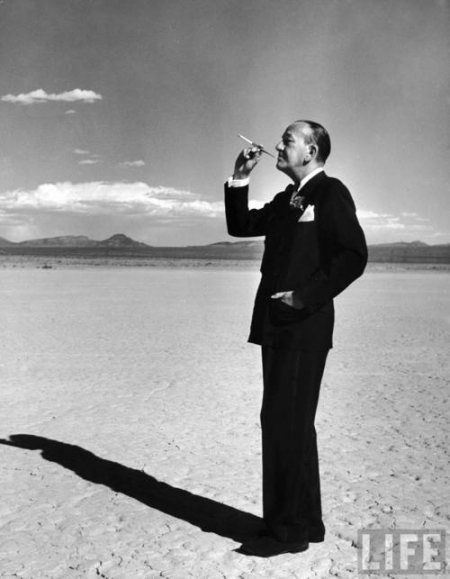 Coward in the Nevada desert during his comeback
as a Las Vegas cabaret star, circa 1970
- end of initial entry -

Dean Ericson writes:
I recently watched (on Netflix) In Which We Serve, a 1942 movie Coward wrote, directed, and starred in, about the sinking of a British ship and the loss of nearly all the crew. It did a beautiful job of portraying the best of the British character; courageous, forbearing, understated, and honorable. You wonder how a people so constituted could fall so far so fast. I'll go see the exhibit (thanks for the notice) and keep an eye out for clues to that mystery.
Joseph E. writes:
You are so right about Sir Noel, particularly his discreet attitude towards his own homosexual affliction.

I saw "Blithe Spirit" and read "Nude with Violin" in my teens, and have been an ardent fan since.

In the years around 1900 were born a cluster of brilliant writers and critics who gave a stunning insight into British life and mores from the '20s to the '60s; Graves, Orwell, Waugh, Nancy Mitford, C.S. Lewis, even the somewhat repulsive Cyril Conolly. Coward was not least among them.
Posted by Lawrence Auster at July 21, 2012 11:10 AM | Send