Rice takes herself out of VP speculation
Condoleezza Rice
told
CBS This Morning
that she's not interested in being Romney's vice presidential nominee:
"I didn't run for student council president. I don't see myself in any way in elective office…. There is no way that I will do this because it's really not me. I know my strengths and weaknesses."
Meaning that she would be weak in national electoral politics and in national electoral office, but that she was strong (strong!) as national security advisor and secretary of state!
We should be deeply grateful that Miss God's Gift to Humanity (see this and this) recognizes at least some of her weaknesses. Unfortunately, they're not the ones that actually counted and helped lead this country into disaster for eight years, and that are still bringing forth ever-increasing fruit of disaster, some thirtyfold, some sixty, and some a hundred.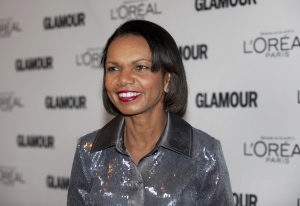 Gifted with a self-love as overpowering as her mediocrity,
as impenetrable as her cluelessness.
Posted by Lawrence Auster at June 26, 2012 04:46 PM | Send