Sudden Savage Syndrome—or just a drug deal gone wrong?
News Channel 36
in North Carolina
reports
today:
Police: Man admits he killed woman, burned her body in car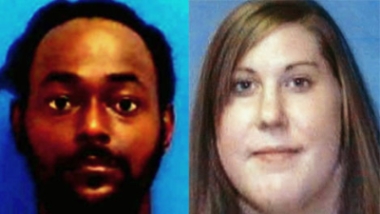 Jermaine Wilkes and Brianne Mary Ginty
CATAWBA COUNTY, N.C. — Investigators say a man confessed to murdering a woman Thursday in her home, then burning her body in her car to hide the evidence.

The Catawba County Sheriff's Office charged Jermaine Wilkes, 32, with murder, burning personal property and destroying remains to conceal an unintended death.

The victim was identified as 22-year-old Brianne Mary Ginty who lived on Hudson Chapel Road.

Wilkes told investigators that he and Ginty, who were acquaintances, had gotten into an argument, which escalated into a fight and he killed the woman. Investigators aren't releasing a motive or how Ginty died.

According to authorities, Wilkes took Ginty to a wooded area off Hopewell Church Road to burn and hide the body.

"Trying to hide evidence," said Catawba County Sheriff Coy Reid.

Neighbors say they saw people coming to the house during all hours of the day and night and they suspected it was for drugs. Sheriff Reid isn't saying if that was the motive behind the murder.

Friends say they don't know what happened, but Ginty didn't deserve to die over the fight.
"
Maybe he just got mad. I don't know what set him off," said friend Brittney Dailey. "I don't think Brianne would have done anything that extreme to deserve what she got."

Wilkes was not given a bond during a Friday morning court appearance and is due back in court on June 29.
Have you noticed how the standard response of friends and relatives of a person murdered by a savage is to say, bizarrely, that the victim "didn't deserve" it? As though there were
any possibility
that the victim deserved it! As though the default assumption is that most murder victims
do
deserve it, but not
this
murder victim! Just as, when a black accuses a white of racism, the white instantly catalogues the good things he's done for blacks, the implication being that OTHER white people are racist, but not me!
Posted by Lawrence Auster at June 08, 2012 06:03 PM | Send