Trayvon's tweets: America's icon of innocent black youth was, in his own description of himself, a "NO LIMIT NIGGA."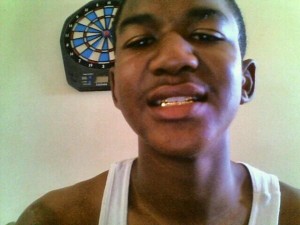 Trayvon at his own Twitter page,
gold tooth and all
The Daily
Caller
reports
:
The Daily Caller has obtained a compilation of the late Trayvon Martin's tweets.

The social media scan, executed on PeopleBrowsr and supplied to TheDC by the individual who performed the search, contains tweets from the last month of Martin's life, dating to the beginning of 2012.

Martin tweeted under the handle "NO_LIMIT_NIGGA," an account that was closed shortly after his death.

The image attached to the Twitter account when Martin died matches one that has been widely distributed. That photograph of Martin depicts him smiling, gold-toothed, into a camera in front of an electronic dartboard.

TheDC is publishing these tweets in exactly the form it received them, with the sole exception of partially redacting Martin's telephone number in one tweet.

Update: Shortly after TheDC published this archive Monday, Trayvon Martin's account suddenly reappeared on Twitter. It was offline for at least one week.
Go to the DC page and peruse the NO LIMIT NIGGA's—excuse me, the Christlike victim of white racism Trayvon's—messages. They are images, not text, so I can't copy them here. But here's one that gives a flavor of what this harmless black youth was like and in what direction his rapid maturation process was taking him:
2 glock 40's…. bitch u got 80 problems

UPDATE, March 27
Since The Daily Caller's collection of Trayvon's tweets is immensely long, and many of them are either nonsensical or don't say anything, I've copied some of the more interesting ones and posted them below. Warning: A lot of the material is obscene and you read this at your own risk.
The tweets as copied at the Daily Caller are undated, other than that they came from two months ago or one month ago.
U had yo chance….

fuck a bitch. any bitch. who you want? take yo pick but you gone take yo time.

Still ballin

Sum stuff u jus gotta tak 2 da grav w/ u

Lol so daisha think she a boss caus she walkd in class late 2day…. i do dat everyday

Hahaha Hoe u got USED fa you loose ass pussy.! Tighten up.! #Literally

#youthetype of bitch that give up your pussy for free and think its cool

RT @ TrueJetMissus: I want some head ! Sheesh

WORD Of The Day: ROXY! : Green Ass Bitches (&&] Nigguz:/

Yo panties leakn?? I lik dat :))

RT @myssVonne: #SexualPickUpLines My you have a long tongue..What do you use it for?

#ThickDickThursday #ThickDickThursday #ThickDickThursday #thatisall

Da less friendz da betta…. cuz @ da end of da day it only mean u gon b dat much closer 2 da ppl u fucks w/

I'll beat the pu**sy up

I'll slap a girl if she said suck my toes wtf, she must be giving some great dome for some shit like that

*9 mo dayz til a nigga bday*

A fuck nigga is FOREVER a fuck nigga! fuck 'em!

Females think just like niggas but we wrong for getting caught

A Real Boyfriend Tell His HOES I Got A GirlFriend Thats Ahh Real BoyFriend :)

RULES WHEN TEXTING A GIRL: 1) Don't take an hour to reply. 2) Use good grammar. 3) Ask questions. 4) Use the ":)" face.

Everyone looking for Love, & no one wanna be Faithful

U WANNA SEE SUM CASH? WELL LEMME SEE SUM ASS
- end of initial entry -
March 27
Michael S. writes:
I read through the list of the tweets, and by no means am I defending any of them. However, I wanted to point out that

"2 glock 40's…. bitch u got 80 problems"

are lyrics from a Lil' Wayne song titled "It's Good." I have never actually heard the song, but I had my suspicions the quote was not self-originated, which led to quick Google search. I tried to decipher the euphemism and colloquialism of the song, but unfortunately they all escaped my limited knowledge of the rap culture. The gist of song becomes apparently after reading through the first few lines of lyrics.

Keep up the good work.
LA replies:
Whether Trayvon came up with that line himself or was quoting it from a "song" is irrelevant to my point, which is that he used the line to express his thoughts. Either he originated the thought, or he approved the thought.
John P. writes:
"2 glock 40's…. bitch u got 80 problems"

Look on the bright side: at least he's good at arithmetic!
Posted by Lawrence Auster at March 26, 2012 11:43 PM | Send