Rioting Muslims are sending us a message. Will we get it? Don't be ridiculous.
I'm looking
at these
headlines
at Drudge about the Koran riots…
5th day of Koran-burning protests…
Islamists rampage British WWII cemetery in Libya…
Mobs charge US bases…
Taliban: Kill foreigners…
Pentagon Official Apologizes at VA Mosque…
Obama 'deeply regrets'…
Gingrich: Obama 'surrendered' with apology…
… and I'm thinking, "Could this finally wake up America and the West to the nature of Islam and the utter folly of getting ourselves involved with Muslims, whether as immigrants in our countries or as the objects of our democracy-spreading efforts in theirs?" (Yes, I know I've been down this road before, seeing the possibility of a turnaround which never comes. Don't worry, I'm not kidding myself, it's just a passing thought.)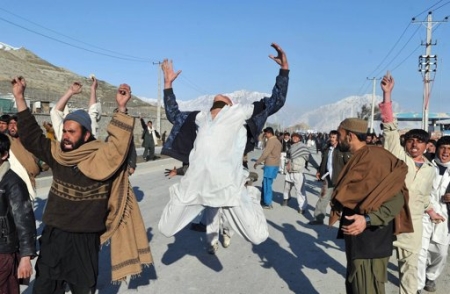 Our Afghan allies: "Decent people who want
to live in dignity and peace." G.W. Bush.
Posted by Lawrence Auster at February 25, 2012 05:25 PM | Send