The tacky liberal West
I can't
get enough of Julia Gillard. In researching a side-point in the previous
entry
about her, I came upon this photograph of Gillard and her "partner," Tim Mathieson: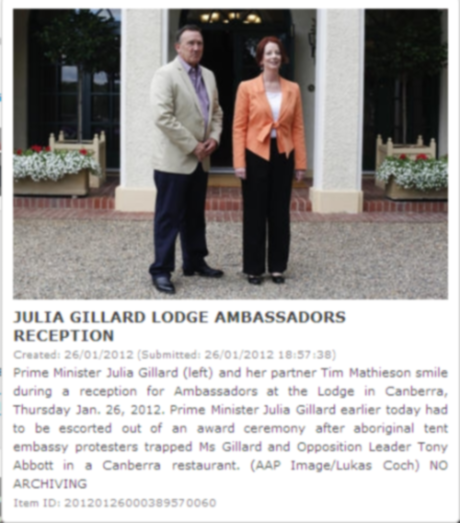 This is the way the prime minister of a Western country, with her lug of a "partner" at her side, dresses at a reception for foreign ambassadors held at her official residence. She looks as if she's heading out to pick up a sandwich at the corner deli.


- end of initial entry -
Paul K. writes:
Any idea why the caption says, "Prime Minister Julia Gillard (left) and her partner," when she is on the right?

Gillard's partner, Tim Mathieson, who worked as a hairdresser, met the current prime minister when she patronized the salon where he was working. He still performs in that role, according to this article , "Beer-swilling hair-dresser is Australia's 'first bloke'":

Mathieson also plays an important role in a key issue that dominates Australian public life: Gillard's hair.

Days before her shock rise to power, the then deputy PM's auburn locks appeared several shades darker as a deep, presidential red, a possible clue to the events that were to follow.

Mathieson said he was often up before dawn preparing Gillard's hair for her early engagements.

"That's my forte, the famous 5:30 am blow wave," he told the Telegraph. "Sometimes it's 4:30. I've learned to blow wave with one eye open or even in my sleep."

Good to know things are weird all over.
LA replies:
Synchronicity, Paul. In the same Send/Receive in which I got your e-mail, I sent out this, to a female friend:

When I said that Michele Bachmann's hair looks natural brunette, not colored, you said that it's easy for women to color their hair a natural looking brunette. But if that's true, why do so many women have that obviously artificial "henna" color? Go here, where there are three photos of Australian PM Julia Gillard, and look at the one on the right. It's that artificial reddish color that many women use. If a more natural looking brunette coloring is available, why don't women use it?

Which tends to indicate that Bachmann's hair color is natural.
Rhona N. writes:
The reason many brunette women who color their hair end up with a reddish tint is that the color tends not to be successful in turning the hair back to brown, particularly the grey part. For some reason, the chemical interaction with the dye and the grey results in hair with a reddish tint. Some women then go on to a more red look out of inevitability. That is also why many men who color their formerly brown hair tend to look as if they spilled a bottle of soy sauce on their heads.
LA replies:
Do you think that Bachmann's hair is natural? It's a dark brunette, and doesn't look at all artificial.

Until last spring, I thought she was in her forties. I was surprised when she said (and then she didn't stop saying it) that she was 55.
Rhona replies:
I just looked at a picture of Bachmann. I definitely see the reddish tint.
Kidist Paulos Asrat writes:
I was debating sending this email to you regarding your earlier post on PM Gillard, "Another image from the late West, or post-West." Then I decided to send it after your most recent post on Gillard, "The tacky liberal West."

Below is the original email:

In your recent post on PM Julia Gillard and her partner, I agree that Mathieson looks uncomfortable next to Gillard. But I thought Gillard looked like some housewife greeting a friend invited (not very close, but invited nonetheless) to some dinner or party at her home with the Swedish ambassador. The effusive arms-out greeting is no way for a head of a country to greet an important representative of another (or anyone, for that matter). I don't blame the Swedish ambassador's startled grin. And he seems to be holding her at arm's length.
LA replies:
I had exactly the same thought as you about the inappropriate greeting, too chummy and self-congratulatory, and drafted it; I was also thinking of saying that they looked as if they were about to air-kiss, like two celebrities. But I didn't want to overdo things, so I left it out. So I'm glad to have my impression confirmed by you.

However, my impression of the ambassador's grin is different from yours. It seems to me that he is warmly approving of her.
A reader writes:
I've long noticed that a certain color of dyed hair has been an expression of feminist and lesbian solidarity. Not every feminist dyes her hair this color, but every woman who does is invariably an incorrigible feminist. Apparently the color is called "wine red."

Google reveals Sharon Osborne has this shade, e.g. here. Not to worry, Osbourne has definitely earned her feminist bona fides, as a member of that salon of taste and restraint The View, calling an incident in which a man had his penis cut off for wanting a divorce "quite fabulous."
Posted by Lawrence Auster at February 04, 2012 08:46 AM | Send