African thug violence unleashes chaos, stops business, in London shopping district
In a
central London shopping district on the day after Christmas, a Somali man got into a fight with another Somali man over sneakers in a Foot Locker store and stabbed him in the chest in front of other shoppers. The wounded man staggered outside and collapsed. As the police gathered around him trying vainly to resuscitate him, they simultaneously had to restrain the blacks who were charging at them. The
story
with many stunning photographs is at the
Daily Mail
.
Here's the victim, by the name of Seydou Diarrassouba. Criminality is written all over him. How many scams, robberies, beatings, rapes, murders were prevented by his death? This is the sort of human material being actively imported into Britain and America.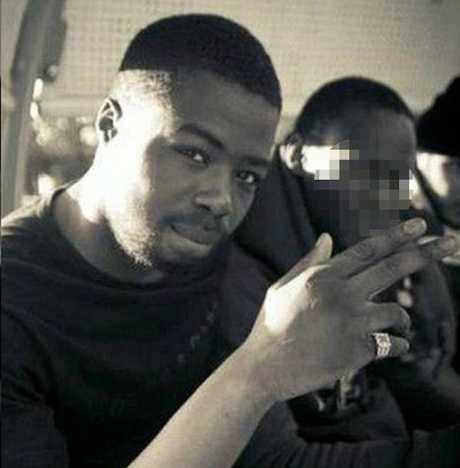 Victim: Teenage Seydou Diarrassouba makes a gun salute
while posing for the camera.
James P. sends another of the photos from the
Daily Mail
, pointing out the irony that the black thug pushing against the police as the police try to help the dying man (and you can see by the policeman's stance that he feels threatened) is described as a "member of the public"!

Pressure point: A policeman fends off one member of the public
while onlookers film the scene
Here's another shot. Remember how blacks shot at rescue crews during Hurricane Katrina? When authorities show up to help blacks, they must deal, not only with the immediate problem, but with the chaotic and violent black behavior that prevents them from doing their jobs.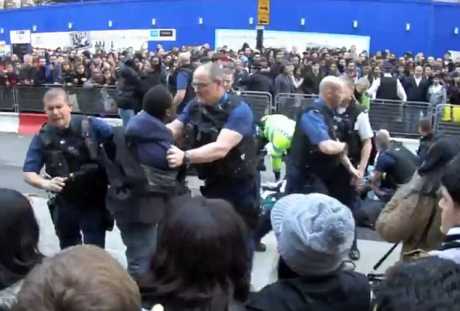 Crowd control: In this video image, police are seen keeping crowds back
while paramedics try to revive the stabbing victim.
As a result of the stabbing and of another, non-lethal stabbing a few blocks away on the biggest shopping day of the year, many stores had to close for the rest of the day, losing incalculable business. Of course, not a single voice in British public life says, "What the hell were we doing when he allowed these disorderly primitive violent blacks into Britain!" No. They don't react. They don't think. They can't think or react, because they're already dead.
- end of initial entry -

December 28
Frank R. writes:
The BBC and Guardian both covered this story and avoided any mention of the race of victim or perpetrators. Same with the detective making an appeal for witnesses without mentioning any defining characteristics. Unfortunately for the BBC they have not been able to avoid posting a picture on their website, albeit a rather benign portrait in comparison to the one from the Daily Mail that you used. Of course, as soon as I read that the mayhem kicked off in Foot Locker I knew the rest.
David P. from England writes:
You wrote that both murderer and victim were Somalis.

The question that arose in my mind was how come the victim and murderer were both Somalis? Seems unlikely.

Then Raedwald gives a possible reason:

6. Don't target the same shop at the same time as a rival shoplifting gang …

The dominant culture of Somalia is brigandage. Fits.

The Somalia connection remains to be confirmed
LA replies:
There are many conflicting groups among the Somalis. They are involved in clan warfare in Somali, and they bring it to the West.
David P. replies:
I believe there are six major clans, all are loggerheads with each other. The normal economy of Somalia runs on that conflict.
Posted by Lawrence Auster at December 27, 2011 02:49 PM | Send